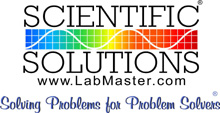 Scientific Solutions ® Inc.
LabPac® Laboratory Enhancements
LabPac LolliPop Thermometer

Picture shows the Thermometer
Description
NIST and DKD traceable
Digital Display
Water resistant
The LabPac Lollipop Thermometer incorporates an embedded computer, sensors and software into a small convenient package to provide an accurate measurement and digital readout of temperature.
The "lollipop" design has a 5" stainless steel probe attached to a small cylindrical head which incorporates the electronics, an LCD display, buttons for configuration and battery (included so it is ready to use out of the box).
Features include a water resistant design, stainless steel probe 125mm, maximum and minimum temperature memory and selectable Fahrenheit and Celsius units. Includes a probe cover and pocket clip.
When you are trying to determine the %IPA of your Test Solution, you need to measure the Specific Gravity using a hydrometer and the Temperature using a thermometer of the Test Solution. It is these measurements that you type into the omegameter and the omegameter uses to calculate the percentage of IPA in the solution.
CE mark, RoHS compliant. This thermometer is calibrated by an ISO/IEC 17025:2005, A2LA accredited laboratory against equipment whose calibration is traceable to NIST and DKD. One LR44 battery included.
LabPac LolliPop Digital Thermometer
Range
-50 to 200 deg C
-58 to 392 deg F
Resolution
0.1 deg
Overall Dimensions
188mm L x 40mm W
7.4in L x 1.6in W
Probe Length
125mm
4.9in
Accuracy
2 deg C, 1 deg C from -40 to 150 deg C
---