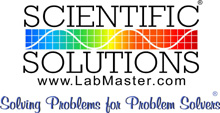 Scientific Solutions ® Inc.
Product Locater - Product By Solution
This section lists a number of particular applications, third party products, and industries that use Scientific Solutions products. Use this section to find products used by specific applications or industries such as SandMan for Sleep labs, Axon pClamp, Photon's Felix, Camber Entertainment or Thompson Training simulators, etc.
---
If You Can't Find What You Are Looking For:
If you can't find what you are looking for, then contact Scientific Solutions via phone, fax or email. We will be glad to help with your problem, answer your questions or design and make the product that you need.
Scientific Solutions complete in-house control over product design and manufacturing allows us to make the custom modifications or products you need quickly and with cost-effective efficiency in addition to our standard off-the-shelf products. All product design and manufacturing is done in our USA facilities.
If you don't see what you need, then just ask.
Contact Scientific Solutions Support if you need additional information or custom configurations

Contact Scientific Solutions Sales to place your order or check status of an order

---
Product Solution:
If you are looking for an accessory for a product, such as a DeskTop BNC unit, Screw Terminal unit, replacement parts, etc., then use this section and select the name of the solution that will use the accessory. Each solution name is a link that when selected will provide more information about the available product and accessories.
Automotive Electric Window Testing
Automotive Durability and Warranty Reduction Testing
Axon Instruments Products
Axon TL-1, TL-2, TL-3, pClamp
Dagan Systems LM-12 products
LabMaster Products for Dagan LM-12 systems and StrathClyde Products
InStep Products
LabMaster Products and DeskTop units used for Instep
jClamp for Windows Products
ISA and PCI products that work with jClamp for Windows
Motion Simulator Products
Civilian and Military Aircraft training simulators (Aviation Simulation Trainers, Thompson Training)
Entertainment Motion Machines (AI Entertainment, Camber Entertainment, S&D Leisure)
Mixing Cement
Erie-Strayer Cement Mixer Products
NASA Space Shuttle Simulation Products
Space Shuttle Orbiter monitoring and control
On-site Wiring & Installation by Scientific Solutions
NeuroScan Products
LabMaster Products for Scan
PTI Products
Products for Photon Technologies Inc. Felix software
LabMaster PRO & DeskTop BNC units
Sleep Lab Diagnostic Products
NPB Melville, Tyco Healthcare, Sandman
Tecmar Products
Varian Products
IEEE-488 cards for spectrometers
VPM Products
Products for Ed Cook's popular VPM software package
Y-Science
LabMaster Products for Y-Science
---