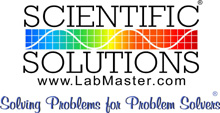 Scientific Solutions ® Inc.
LabMaster ® Products for Dagan

Dagan Systems has been using Scientific Solutions products for many years. Their LM-12 interface is a rackmount unit that provides convenient BNC connections for the Scientific Solutions LabMaster DMA products.
The Dagan LM-12 interface is a rackmount unit with BNC connections. Inside the LM-12 is the LabMaster DMA External A/D converter. Inside the computer is the LabMaster DMA PC Interface. Flat ribbon cables are used to connect from the LabMaster DMA PC Interface to the Dagan LM-12 unit.
The Dagan Products use only a few of the many different configurations of the LabMaster DMA. In addition to the Dagan configurations listed here, the reader is invited to visit the other LabMaster products to view the other LabMaster DMA configurations in addition to the other products such as the LabMaster AD/ ADEX products, LabMaster PRO PCI systems and the LabMaster DPCI acquisition systems.
Scientific Solutions LabMaster Products for Dagan



Part
Number

Image

Product Overview

More Information





The LabMaster DMA is a family of many different versions and configurations. The configurations listed here have been used in the Dagan LM-12 products. Other configurations are available.



Product Includes:

LabMaster DMA card for inside the PC

LabMaster DMA External ADC card for inside the LM-12 unit

The LM-12 box is provided by Dagan
Scientific Solutions also offers BNC units, refer to the Products link for more information


50pin ribbon cable to connect PC card to DeskTop unit
Inverting and Non-Inverting Digital I/O buffers
PDF manual on Diskette
LabMaster Series Software Diskette


Features Include:



A/D, D/A, Digital I/O, Counter/Timer
8 or 16bit ISA Bus compatible

16 Analog Inputs (12 or 16 bit resolution, 50Khz or 160Khz speed)

Dual 12 bit Analog Output
24 bits of Digital I/O
Five 16 bit Counter/Timers
DMA transfer of A/D samples to computer memory
Precision timed A/D using on-board Counter/Timer

Full Description and Specifications
Frequently Asked Questions
On-line Manual (html)
PDF Manual (download)
814130










LabMaster DMA, 12 bit 50Khz, HGE, RC w/o enclosure


12 bit, 50Khz Analog-to-Digital Conversion
HGE - Hardware Gain = 1 for all Analog Input Channels.

Can be changed to any gain using Precision Resistor

RC - Ribbon Cable connection from PC to external ADC board




814133










LabMaster DMA, 12 bit 160Khz, HGE, RC w/o enclosure


12 bit, 160Khz Analog-to-Digital Conversion
HGE - Hardware Gain = 1 for all Analog Input Channels.

Can be changed to any gain using Precision Resistor

RC - Ribbon Cable connection from PC to external ADC board



Scientific Solutions LabMaster Accessories for Dagan



Part
Number

Photo

Product Overview

More Information

811990





LabMaster DMA PC Interface


PC Interface only (no cables or external unit)

Comes with both Inverting and Non-inverting Digital I/O buffers

Full Description and Specifications
Frequently Asked Questions

0801007





LabMaster DMA External ADC (12bit, 50Khz, HGE, RC)


External DeskTop Unit
Small footprint DeskTop Unit

11" W x 4" H x 7" D (280mm x 102mm x 178mm)


Connections for 16 Analog Input Signals

Full Description and Specifications
Frequently Asked Questions
0821008



Windows Device Drivers and LabPac32 DLL (included with card)
32-bit kernel mode driver
WDM driver supports Win98, 2000, XP
LabPac32.DLL function library

Full Description and Specifications
0821004




LabPac32 Software Application Development Toolkit


32-bit kernel mode driver
WDM driver supports Win98, 2000, XP
LabPac32.DLL function library with full documentation

Software Developer Example software
Header files
C/C++ open source compilier

Full Description and Specifications
938298





LabMaster DMA 50 position shielded ribbon cable 6 ft.

This cable is supplied with the RC version of the LabMaster and is available as a replacement for lost or damaged cables.




938299






LabMaster DMA 50 position shielded ribbon cable 10 ft.

10 ft version of the standard LabMaster DMA shielded cable





938300






LabMaster DMA 50 position shielded ribbon cable 50 ft.

50 ft version of the standard LabMaster DMA shielded cable



---