9323 Hamilton

Mentor, Ohio 44060 - USA

Tel:+1-440-357-1400

Fax:+1-440-357-1416
Parts for Sale
Part: TC5588J-15
Description: 8K x 8 CMOS SRAM
Manufacturer: Toshiba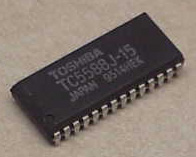 Pictures show tube of parts along with a close-up view.

This sale consists of the following item:

Toshiba TC5588 Memory

History of this Item
We are an original equipment manufacturer (OEM).
We are the original purchasers of this item.
This item is currently stored in our air conditioned humidity controlled facility.

Specifications
Part number TC5588J-15
TC = Toshiba Semiconductor
5588 = 8K x 8 SRAM
J = 28-lead molded SOJ surface mount package
15 = Maximum access time of 15nSec



Manufacturer

Toshiba

Part Number

TC5588J-15

Date Code

95

Description

8K x 8 CMOS Static SRAM

Device package

SMT, 28-lead plastic molded SOJ

Packaging

Tube

Condition

New (not pulls) never used
In original factory packaging

Features

15ns access time


The TC5588J-15 is a high-performance CMOS static RAM (SRAM) organized as 8192 words by 8 bits. Easy memory expansion is provided by various chip and output enable signals. This device has an automatic power-down feature reducing the power consumption by 70%. The device is in a standard 300-mil-wide 28pin SOJ package.

Select this link for the CY7C185-20VCT Data Sheet, which is a similar part made by Cypress Semiconductor

---