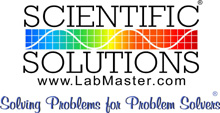 Scientific Solutions ® Inc.
BaseBoard ® Analog Power Supply Module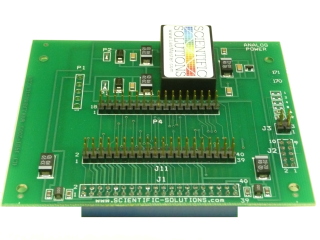 Scientific Solutions Analog Power Supply Module
The BaseBoard Analog Power Supply (APS) Module provides a low noise power source which is required for modules that perform A/D or D/A fuctions. The APS modules attaches directly to the BaseBoard, occupying one of the module locations. The other three locations can be used by any type of module. One APS module provides enough power from one up to three Analog type modules. With an APS installed, you can have one, two or three Analog type modules or a mix of Analog and Digital modules. The APS module also provides digital I/O functions.
For use with the BaseBoard / PCI Digital I/O products
One APS module is required if any Analog type modules are installed.
For use with the following Analog type modules

pn:020042, DAC1612
pn:020043, ADC1614HGE
pn:020044, ADC1614PGH
pn:020045, ADC1614PGL

Installs inside the BaseBoard PCI DeskTop unit

connects to 40 pin header of BaseBoard product

Provides 24 Digital I/O signals

provides a 34 pin header with Digital I/O signals
each Digital I/O is paired up with a ground connection

Compact screw terminals available
Provides low-noise power supply for other installed analog modules
Scientific Solutions PowerTag® compliant

LabPac software automatically identifies and configures the module

Only one module is required per DeskTop unit, and only if the DeskTop unit also contains Analog type of modules as previously listed.
Plug In Module - Analog Power Supply
The Scientific Solutions Analog Power Supply module is an optional module for use with the BaseBoard / PCI digital I/O products. When used with the BaseBoard / PCI product, the module is housed in the DeskTop unit. The purpose of the module is to provide regulated low-noise dual-rail power supplies that are required by other installed modules that perform Analog-to-Digital and /or Digital-to-Analog functions. One APS module provides sufficient power for up to three Analog type modules. A BaseBoard can accommodate from 1 to 4 add-on modules. With one position used for the Analog Power Supply, this leaves three other positions to be used for other moduels. You can add any combination of other modules that you want (Analog Input, Analog Output, Opto-isolated Digital Input or Output, etc).
In addition to providing power for other Analog type modules, the APS also provides Digital I/O signals on a 34 pin header. This allows the APS module to occupy a module location while still providing signal connections.
If you use multiple DeskTop units, each DeskTop unit that contains an Analog type of modules will also require an APS to be insntalled.
Configuring the APS
This module is Scientific Solutions PowerTag compliant, meaning that when this module is attached to a product, such as the BaseBoard / PCI that also has PowerTag technology, the BaseBoard product can query the module and obtain characteristic information, such as the module type, the number of channels, voltage range, etc. This permits auto-configuration of the product without having to prompt the user for this information.
The control and operation of the APS module is fully supported by Scientific Solutions device drivers and LabPac function library.

Technical Specifications
APS Module Characteristics

| | |
| --- | --- |
| Input Voltage | +5 volts |
| Output Voltage Positive Rail | +15 volts |
| Output Voltage Negative Rail | -15 volts |
System Resources
Digital Data and Control Interface
BaseBoard connection
Number of Modules per BaseBoard PCI system
One required only if A/D or D/A modules in same DeskTop unit
One APS powers up to 3 Analog modules
Input Header Connector on Module
40 position socket header, dual row of 20, 1/10" pin spacing
Output Header Connector on Module
34 position Pin Header, dual row 17 pins, 1/10" pin spacing
Dimensions
3.875" x 3.200" (98mm x 81mm)
Environmental Specifications

| | |
| --- | --- |
| Operating Temperature | -40º to +100º Celsius |
| Storage Temperature | -40º to +125º Celsius |
| Relative Humidity | To 95% non-condensing |
| Agency Approvals | Class A, CE-Mark |
---
APS 34 Position Pin Header Connector
This 34 position pin header connector provides access to the digital I/O signals and grounds.
The NC are reserved NO Connection positions.
APS Digital I/O 34 pin Header
Gnd
Gnd
Gnd
Gnd
Gnd
Gnd
Gnd
Gnd
Gnd
DIO
B0
DIO
B2
DIO
B4
DIO
B6
DIO
C0
DIO
C2
DIO
C4
DIO
C6
18
19
20
21
22
23
24
25
26
27
28
29
30
31
32
33
34
1
2
3
4
5
6
7
8
9
10
11
12
13
14
15
16
17
DIO
A7
DIO
A5
DIO
A3
DIO
A1
DIO
C7
DIO
C5
DIO
C3
DIO
C1
DIO
B7
DIO
B5
DIO
B3
DIO
B1
NC
DIO
A6
DIO
A4
DIO
A2
DIO
A0
APS 40 position socket Header Connector
This 40 position socket header connector povides access to the BaseBoard Digital I/O lines and provides signal connection of the Analog Power Supplies to the proper pins for the other modules.
The NC are reserved NO Connection positions.
Module 40 position socket Header Connector
A0
A1
A2
A3
A4
A5
A6
A7
C5
C7
C1
C3
Gnd
Gnd
Gnd
APS
N15
APS
P15
+5
APS
AGND
Gnd
2
4
6
8
10
12
14
16
18
20
22
24
26
28
30
32
34
36
38
40
1
3
5
7
9
11
13
15
17
19
21
23
25
27
29
31
33
35
37
39
Gnd
APS
AGND
+5
APS
P15
APS
N15
Gnd
Gnd
Gnd
C4
C6
C0
C2
B0
B1
B2
B3
B4
B5
B6
B7
APS Screw Terminal Option
When you have an APS module installed in the DeskTop Unit, then you will have 34 pin connectors on the front of the DeskTop Unit. You can connect a 34 position screw terminal to the front panel connector(s). The Digital I/O signals are then available to the screw terminals. A 34 position ribbon cable is used to connect between the BaseBoard unit and the screw terminal unit. Typically, the striped edge of the ribbon cable connects to Pin 1 of the connectors.
---