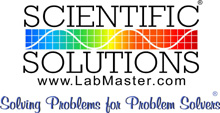 Scientific Solutions ® Inc.
DADIO ®/ ISA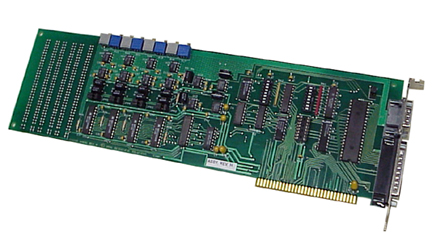 Scientific Solutions DADIO / ISA card
The DADIO is a full sized ISA card that has two primary functions: Digital-to-Analog conversion and Digital I/O. The DADIO features 4 independent 12-bit digital-to-analog converters. All four DACs can change output states simultaneously (doubled buffered) or independently. The DADIO also features 24 lines of programmable digital I/O that support all 8255 modes.
The DADIO was first introduced in 1981. It has been available and supported continuously ever since, and is used in many diverse applications including laboratory testing, entertainment digital audio and multi-sonic music synthesis, laser control, and factory automation.
Information about the DADIO is provided on this page. Also included is information on DADIO accessories.
DADIO / ISA Product
DADIO / ISA - D/A and Digital I/O
Image
Part Number
020008
Title
DADIO / ISA
Overview
The DADIO has two primary functions: Digital-to-Analog conversion and Digital I/O. The DADIO features 4 independent 12-bit digital-to-analog converters. All four DACs can change output states simultaneously (doubled buffered) or independently. The DADIO also features 24 lines of programmable digital I/O.
Features

Full size ISA Interface
100% compatible with original version
4 channels of Digital-to-Analog Conversion thru a standard DE9
24 bits of Digital I/O thru a standard DB25

Product Includes
DADIO ISA card, CDROM with driver and LabPac Library and documentation
Manual
Not Available
Datasheet
Not Available
Product Specifications
Full Description and Specifications
Software
Win32 Device Drivers with LabPac32 function library
Add to Cart
DADIO / ISA Software
LabPac for Windows
Image
Part Number
821012
Title
LabPac Kit-32 for Windows
Overview

LabPac Kit for Windows is a full featured function library that is the Application Programming Interface (API) for all of the Scientific Solutions data acquisition products. The LabPac32 library works with the Scientific Solutions 32-bit, Ring-0, Kernel-Mode Device Drivers to provide a fast, efficient and optimized software program environment.

Simple to use functions handle event counting, precision timing, analog input, analog output, digital input and digital output. LabPac32 is implemented as a standard Dynamic Link Library (DLL) for open compatibility with programming languages and environments.

Features

Software Development toolkit for creating your own applications
Comes complete with Device Drivers for Scientific Solutions Products

WDM Driver supports Win98, Win2K, WinXP, Vista32
LabPac32 DLL as the Application Programming Interface (API)

Software Developer Example Programs

Compiled EXE programs
Source Code
Header files

LabPac API

Full Featured Function Dynamic Link Library
Develop general or specialized Data Acquisition and Control applications
Optimized for speed and flexibility
Communicates directly with the 32-bit, Ring-0, Kernel-Mode Device Driver
Multi-language support

Examples are C, C++, C#, DotNet, Fortran, Pascal, VisualBasic, Java, LabView, etc.

Timed interval processes
Trigger functions on external events
Supports hardware interrupts, DMA and BusMastering

Product Includes
LabPac32 for Windows software
Manual
Not Available
Datasheet
Not Available
Product Specifications
Full Description and Specifications
Software
LabPac32 for Windows Device Drivers and function library
Add to Cart
LabPac for DOS
Image
Part Number
811898
Title
LabPac for DOS
Overview
LabPac for DOS is a sophisticated memory resident driver. It provides DOS applications with a complete data acquisition library that includes functions to handle event counting, precision timing, analog input, analog output, digital input and digital output. LabPac installs as a BIOS-level software interrupt, allowing any language that runs under DOS access to its various functions. Introduced in 1981 for the PC, it is available to support our long-time customers who continue to use DOS based products.
Features

DOS Installable Device Driver and Function Library

Device Drivers to virtualize physical hardware
Library provides wealth of easy-to-use functions

Optimized for speed and flexibility
Continued support for numerous Scientific Solutions Products:

BaseBoard (ISA and PCI)
DADIO
LabTender
LabMaster DMA
LabMaster DPCI

BIOS-Level Memory Resident Driver with Multi-Language support

Callable from any DOS programming language

Timed Interval processes
Data files in binary or ASCII format
World's first Data Acqusition programming environment for the pc

Product Includes
LabPac for DOS software
Manual
Not Available
Datasheet
Not Available
Product Specifications
Full Description and Specifications
Software
LabPac for DOS Device Driver and function library
Add to Cart
DADIO / ISA Accessories
Screw Terminal, 26 Position
Image
Part Number
811972
Title
Screw Terminal, 26 Position
Overview
Convenient compact double row clamp style screw terminals makes it easy to connect discrete wires to signals located on 26 pin header connectors. Includes ribbon cable to connect the Screw Terminal Unit to the header connection of your other equipment.
Features

Provides Convenient Screw Terminals
For connection to 26 pin headers
Includes 26 conductor flat ribbon cable

6 ft. (1.8m) length
Each end terminated with 26 position socket header

Product Includes
26 position Screw Terminal, 6ft length 26 conductor flat ribbon cable
Manual
Not Available
Datasheet
Not Available
Product Specifications
Full Description and Specifications
Software
Not Applicable
FAQ
None
Add to Cart
Screw Terminal, 10 Position
Image
Part Number
811970
Title
Screw Terminal, 10 Position
Overview
Convenient compact double row clamp style screw terminals makes it easy to connect discrete wires to signals located on 10 pin header connectors. Includes ribbon cable to connect the Screw Terminal Unit to the header connection of your other equipment.
Features

Provides Convenient Screw Terminals
For connection to 10 pin headers
Includes 10 conductor flat ribbon cable

6 ft. (1.8m) length
Each end terminated with 10 position socket header

Product Includes
26 position Screw Terminal, 6ft length 10 conductor flat ribbon cable
Manual
Not Available
Datasheet
Not Available
Product Specifications
Full Description and Specifications
Software
Not Applicable
FAQ
None
Add to Cart
Cable, 26 Conductor Ribbon with DB25
Image
Not Available
Part Number
cb325003
Title
Cable, 26 Conductor Ribbon terminated with 26 position header and DB25
Overview
26 conductor flat ribbon cable, 6 foot in length (1.8 meter) and terminated on one end with a 26 position header socket connector and on the other end with a DB25. This cable is typically used to connect from the DADIO Digital I/O connector to the 26 position screw terminal.
Features

High quality ribbon cable
26 conductors
Colored stripe to indicate pin 1 location
6 foot length (1.8 meter) standard, 10 ft. and 50 ft. special order
Each end Terminated with a connector

DB25F to connect to DB25M of DADIO Digital I/O
26 position socket header to connect to 26 position screw terminal

Product Includes
26 conductor flat ribbon cable with attached DB25F and 26 position header connector
Manual
Not Available
Datasheet
Not Available
Product Specifications
Not Available
Software
Not Applicable
FAQ
None
Add to Cart
Cable, 10 Conductor Ribbon with DB9
Image
Not Available
Part Number
938340
Title
Cable, 10 Conductor Ribbon terminated with 10 position header and DB9
Overview
10 conductor flat ribbon cable, 6 foot in length (1.8 meter) and terminated on one end with a 10 position header socket connector and on the other end with a DB9. This cable is typically used to connect from the DADIO Analog Output connector to the 10 position screw terminal.
Features

High quality ribbon cable
10 conductors
Colored stripe to indicate pin 1 location
6 foot length (1.8 meter) standard, 10 ft. and 50 ft. special order
Each end Terminated with a connector

DB9F to connect to DB9M of DADIO Analog Output
10 position socket header to connect to 10 position screw terminal

Product Includes
10 conductor flat ribbon cable with attached DB9 and 10 position header connector
Manual
Not Available
Datasheet
Not Available
Product Specifications
Not Available
Software
Not Applicable
FAQ
None
Add to Cart
---