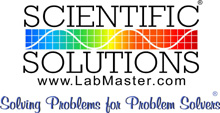 Scientific Solutions ® Inc.
Digital Input / Output Products
Scientific Solutions offers a number of products for Digital Input and Output (dio). Some of these products, such as the BaseBoard series, are particularly suited for the task. Other products are multifunctional and include digital I/O as one of their many functions.
In addition to the products listed, Scientific Solutions offers a number of options including screw terminals, Solid-State Relay Racks, Solid-State Relays, Optical Isolators and various cable arrangements.
Listed is a brief overview of the products. Choose the link under More Information to obtain full specifications and part numbers.
Scientific Solutions Digital Input / Output Products
Scientific Solutions Digital I/O Products
Image
Product Overview
more Information
BaseBoard / PCI Products

Small PCI card, about 2" x 3" (51mm x 76mm)
Single cable connection to external DeskTop unit
DeskTop unit provides 96 Digital I/O
Use four DeskTop units with a single PCI card for 384 Digital I/O
Optional Plug In Modules

Optical Isolation to 5000v, increased voltage/current 60v/80ma
Analog Input with programmable gain
Analog Output with multiple D/A channels

100% software compatible with BaseBoard / ISA product
Win32 drivers and LabPac32 library

BaseBoard / PCI Information and Part Numbers
BaseBoard / ISA Products

Full size ISA card
Ribbon cable connects thru single ISA bracket
Provides 96 Digital I/O signals
Optional Plug in Modules

Optical Isolation to 5000v, increased voltage/current to 60v/80ma
Both Input and Output modules available

100% software compatible with 1981 BaseBoard product
Win32 drivers and LabPac32 library

BaseBoard / ISA Information and Part Numbers
Solid State Relay (SSR) Products

Solid State Relay Racks
Solid State Relay Modules

AC Input
AC Output
DC Input
DC Output

Solid State Relay Information and Part Numbers
DADIO Products

Full size ISA card
24 Digital I/O (DB25)
4 Analog Output (DE9)
100% software compatible with 1981 DADIO product
Win32 drivers and LabPac32 library

DADIO Information and Part Numbers
LabMaster ADEX Products

1/2 size ISA card
Single cable external connection
Multifunctional card

24 Digital I/O
2 Analog Out
16 to 64 Analog Input
5 Counter / Timers

100% compatible with LabMaster AD
Win32 drivers and LabPac32 library

LabMaster ADEX Information and Part Numbers
LabMaster DMA Products

3/4 size ISA card
Multifunctional card

24 Digital I/O
2 Analog Out
16 Analog Input
5 Counter / Timers

Win32 drivers and LabPac32 library

LabMaster DMA Information and Part Numbers
LabMaster DPCI Products

Small PCI card, about 2" x 3" (51mm x 76mm)
Single cable connection to external DeskTop unit
DeskTop unit provides

24 Digital I/O
2 Analog Out
16 Analog Input
5 Counter / Timers

Runs LabMaster / ISA software
Win32 drivers and LabPac32 library

LabMaster DPCI Information and Part Numbers
LabMaster PRO

32-bit BusMaster PCI card
Single cable external connection
Multifunction card

24 Digital I/O (expandable to 2048)
2 Analog Out (expandable to 32)
16 Analog Input (expandable to 256)
5 Counter / Timers

Win32 drivers and LabPac32 library

LabMaster PRO Information and Part Numbers
LabTender

3/4 length ISA card
Ribbon cables connect thru single ISA bracket
Multifunctional card

24 Digital I/O
16 Analog Output
32 Analog Input
5 Counter / Timers

Win32 drivers and LabPac32 library

LabTender Information and Part Numbers
---