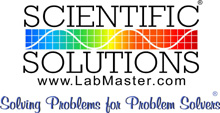 Scientific Solutions ® Inc.
Analog Input / Output Products
Scientific Solutions offers a number of products for Analog Input (Analog-to-Digital Conversion) and Analog Output (Digital-to-Analog Conversion). The products with Analog I/O generally also have other capabilities such as Digital I/O and Counter / Timer functions.
The product families included in this list offer a number of options including analog I/O range, analog gain, DeskTop connection options (screw terminals, MiniJacks, BNCs, etc) or rackmount units.
Listed is a brief overview of the products. Choose the link under More Information to obtain full specifications and part numbers.
Scientific Solutions Analog Input and Analog Output Products
Scientific Solutions Analog I/O Products
Image
Product Overview
more Information
DADIO Products

Full size ISA card
100% compaitlbe with original version
4 channels of Digital-to-Analog Conversion thru a standard DE9
24 bits of Digital I/O thru a standard DB25
Win32 drivers and LabPac32 library

DADIO Information and Part Numbers
LabMaster ADEX Products

1/2 size ISA card
Single cable external connection
Multifunctional card with

2 Analog Out
16 to 64 Analog Input
24 Digital I/O
5 Counter / Timers

100% compatible with LabMaster AD
Win32 drivers and LabPac32 library

LabMaster ADEX Information and Part Numbers


LabMaster DMA Products

3/4 size ISA card
Multifunctional card with

2 Analog Out
16 Analog Input (with optional external unit)
24 Digital I/O
5 Counter / Timers

LabMaster DMA Information and Part Numbers
LabMaster DPCI Products

Small PCI card, about 2" x 3" (51mm x 76mm)
Single cable connection to external DeskTop unit
DeskTop unit provides

2 Analog Out
16 Analog Input
24 Digital I/O
5 Counter / Timers

LabMaster DPCI Information and Part Numbers
LabMaster PRO Products

32-bit BusMaster PCI card
Single cable external connection
Multifunction card with

2 Analog Out (expandable to 32)
16 Analog Input (expandable to 256)
24 Digital I/O (expandable to 2048)
5 Counter / Timers

LabMaster PRO Information and Part Numbers
LabTender

3/4 length ISA card
Ribbon cables connect thru single ISA bracket
Multifunctional card with

16 Analog Output
32 Analog Input
24 Digital I/O
5 Counter / Timers

LabTender Information and Part Numbers
---