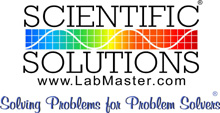 Scientific Solutions ® Inc.
Manufacturing Equipment for Sale
This page contains equipment that Scientific Solutions is offering for sale. Items are generally equipment that have been in use at a Scientific Solutions location for the manufacturing, packaging and distribution of products. Most equipment we have is for use in the manufacturing and testing of electrical circuit board assemblies and related tasks. Some equipment is "as is", while others are "fully refurbished" to like new condition.
Fully Refurbished and "As-Is" Equipment available
Will ship anywhere in the world
ISPM-15 Certified Crating
Vacuum pack seal, shrink wrap, desiccant and vapor barier crating available
OmegaMeter Ionic Contamination Systems
This section has moved to its own page
Use the pulldown menu on this page and select Special Items -> OmegaMeter
Packaging and Shipping Equipment
Equipment in this category is used for the packaging and shipping of product and includes shrink wrap systems, auto-tape systems, strapping machines, box-folders, etc.
Packaging and Shipping Equipment
Scientific Solutions
Part Number
Image
Description
Manufacturer
Manufacturer
Part Number
Price
More Info
Bestronic Shrink Film Packaging machine
Image
Combination unit with L-bar shrink wrap sealer and heat tunnel
Bestronic - Charles Beseler Co.
Mini Shrink Tunnel model T14-8-D
L-bar sealer model 1912-MB
call
More Info
Manufacturing and Fabrication Equipment
Equipment in this category is used for the manufacturing and fabrication of product including surface mount pick-and-place machines, xyz mechanical routers, laser cutters / engravers, cnc machines, and servo amplifiers for quad QSX and QSP assemblers.
Manufacturing and Fabrication Equipment
Scientific Solutions
Part Number
Image
Description
Manufacturer
Manufacturer
Part Number
Price
More Info
Precix Router
Image
Precix Mechanical Router Table and Spindle


26" x 30" area
8" Z-axis movement
servo controlled x, y, z
Standard G-codes
Colombo 3hp High-Speed Spindle (36000 RPM)

Precix
2100 Series CNC Router, type DC23BR
call
More Info
Roland PC3000 Router
Image
Roland PC3000 Table Top Router

4" x 4" working area
6" Z- axis movement
Integrated high-speed spindle

Roland Digital Group
PC3000
call
More Info
Quad Servo Amps
Servo amplifiers for Quad QSX, QSP, QSV, ASP Pick-and-Place pc board assemblers
Performance Controls
FLX series servo amplifiers
call
More Info
---