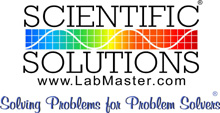 Scientific Solutions ® Inc.
Products for Motion Simulators
Scientific Solutions has been providing products to the miltiary and civilain aircraft training industry as well as the entertainmnet motion simulation market since the early 1980s. Scientific Solutions products have been used by various equipment manufacturers including
Aviation Simulation Trainers
Thompson Training
Camber Entertainment
AI Entertainment
S&D Leisure

The product of choice for these systems has been the Scientific Solutions LabTender family of products.
The original version of the LabTender introduced in 1981 was a full size card. The newer version is physically much smaller - but maintains 100% compatibility with the original version.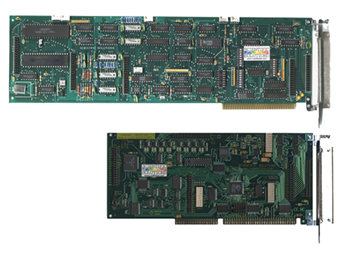 The newer version retains the same 37 pin ribbon cable connections of the original, which allows you to replace the older card with a newer card without having to change any wiring. Also your existing software will run without requiring any modification or upgrade.
The new version remains compatible, but yet adds some additional features including:
16 bit ADC and DAC data - higher resolution
Dynamic Digital Buffering - helps to protect the digital signals from damage
Smaller form factor - easier to install
NOTE: 340hex base address in the FAQ section
Look at AST configuration for more information
Scientific Solutions Motion Simulation Products


Part
Number

Image

Product Overview

More Information

020128




LabTender card without Timer / Counter Feature



Product Includes:

LabTender card for ISA computers
Includes Win-32 devices drivers and LabPac32 library

This version is for installations that DO NOT require the Timer/Counter feature of the card.
This is the version of the LabTender used by Motion Simulation Products.

Features Include:

32 channels of 16 bit ADC data

16 channels of 16 bit DAC data
24 bit Digital I/O with over-voltage protection
Supports 8/16 bit ISA bus
Small Physical Size, 8.75" long (223 mm)

Full Description and Specifications

Frequently Asked Questions

LabTender
Manual (html)

LabTender
Manual (PDF)
Scientific Solutions Motion Simulation Accessories


Part
Number

Photo

Product Overview

More Information

938232




ISA Bracket Set


Replacement parts for lost or damaged card bracket

Consists of three pieces

Card retaining bracket - attaches card to the computer
Cable alignment bracket - provides a backing for the ribbon cables
Cable retaining braket - clamps ribbon cable for strain relief

Full Description and Specifications

CB334004



Cable, ribbon 34 pin, unterminated


Ribbon cable

34 pin header on one end

Un-terminated wire on other end
Cable can connect to any of the cards connectors


Full Description and Specifications
0821008



Windows Device Drivers and LabPac32 DLL (included with card)


32-bit kernel mode driver
WDM driver supports Win98, 2000, XP
LabPac32.DLL function library

Full Description and Specifications
New
Part #



LabPac32 Software Application Development Toolkit


32-bit kernel mode driver
WDM driver supports Win98, 2000, XP
LabPac32.DLL function library with full documentation

Software Developer Example software
Header files
C/C++ open source compilier

Full Description and Specifications
811898



LabPac for DOS


DOS TSR Function library

Callable from any language




Full Description and Specifications
---