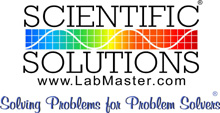 Scientific Solutions ® Inc.
Product Locator
Find the products you need by using the menu at the top or the selections on this page
Use this selection to find products that you already know by name, like LabMaster, DADIO, LabTender, etc. If you are looking for an accessory for a product, such as a DeskTop BNC unit, Screw Terminal unit, replacement parts, etc., then use this section and select the name of the product that will use the accessory.
Use this selection to find products that have particular features you are looking for such as Analog In (Analog-to Digital Conversion), Analog Out (Digital-to-Analog Conversion), Digital In, Digital Out, Counter / Timer, or GPIB. Some products perform all the functions, while others specialize in just one area.
Use this selection to find products used by specific applications or industries such as SandMan for Sleep labs, Axon pClamp for Electrophysiology, Photon's Felix, Camber Entertainment or Thompson Training simulators, VPM, etc.
Use this selection to identify what you have. This is a collection of pictures of our products - both past and present, that will help you to identify the product that you have. Products usually have a name or part number ot it...however as they say "A picture is worth a thousand words.."
---
If You Can't Find What You Are Looking For:
If you can't find what you are looking for, then contact Scientific Solutions via phone, fax or email. We will be glad to help with your problem, answer your questions or design and make the product that you need.
Scientific Solutions complete in-house control over product design and manufacturing allows us to make the custom modifications or products you need quickly and with cost-effective efficiency in addition to our standard off-the shelf products. All product design and manufacturing is done in our USA facilities. If you don't see what you need, then just ask.
---