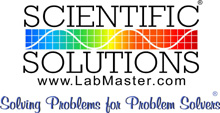 Scientific Solutions ® Inc.
InStep Products

The products in this section are used by InStep for EEG measurements.
InStep has been using Scientific Solutions products for a number of years, starting with the LabMaster AD and progressing to the LabMaster ADEX and most recently to the LabMaster PRO.
In addition to the LabMaster products for inside the computer, InStep also uses various DeskTop units that are used to provide signal connections.
Note that the LabMaster AD and ADEX products use a 60 pin connection, with a single cable connecting to the DeskTop unit which also uses the 60 pin connection.
The LabMaster PRO comes in two versions - a 60 pin version that is the same connection used on the LabMaster AD and LabMaster ADEX; and a 68 pin version. The LabMaster PRO used by InStep has a 68 pin connection, so for users upgrading from the LabMaster AD or ADEX (which are ISA cards) to the LabMaster PRO (a PCI card) you will also want to upgrade your external DeskTop unit as well.
Take a look at the products on this page. If you can't find what you are looking for, or require a modification to an existing product, or a full custom product - please let us know by contacting our sales group
(sales@labmaster.com)
Trade in your existing LabMaster AD or LabMaster ADEX ISA cards toward the purchase of a LabMaster PRO PCI card. Contact Scientific Solutions Sales (sales@labmaster.com) for details.
Scientific Solutions InStep Products


Part
Number

Image

Product Overview

More Information

815310



LabMaster PRO with

68 pin

connector



Product Includes:

LabMaster PRO PCI card with 68 pin connector
Includes 6 foot, 68 pin cable
Includes Win-32 devices drivers and LabPac32 library

This 68 pin version is suggested for new installations that do not require the 60 pin version.

Features Include:

A/D, D/A, Digital I/O, Counter/Timer
32bit PCI BusMaster (132MBytes/sec)
16 to 256 Analog Inputs, 16bit resolution, 333Khz rate
Programmable gain 1, 2, 4, 5, 10, 25, 50, 100 supports Analog inputs from +/- 3uV to +/- 10 Volts
Dual 16bit 500Khz Analog Output (expandable)
16bit Digital I/O (expandable)
Five 16bit Counter/Timers
On-board sample FIFO Memory
Auto-sequence Channel Array table


Full Description and Specifications

Frequently Asked Questions

LabMaster PRO Manual (html)

LabMaster PRO Manual (PDF)
813675




LabMaster ADEX with

60 pin

connector



Product Includes:

LabMaster ADEX ISA card with 60 pin connector
Includes 1.5 meter, 60 pin cable
Includes Win-32 devices drivers and LabPac32 library

This card is 100% compatible with the LabMaster AD PGH and can be used as a direct replacement. It has higher resolution A/D and D/A and a much smaller physical size compared to the LabMaster AD.

Features Include:

A/D, D/A, Digital I/O, Counter/Timer
ISA 16bit Dual DMA interface
16 to 64 Analog Inputs, 16bit resolution, 333Khz rate
Programmable gain 1, 2, 4, 8
Dual 16bit 500Khz Analog Output
16bit Digital I/O

Five 16bit Counter/Timers
On-board sample FIFO Memory
Auto-sequence Channel Array table

Full Description and Specifications

Frequently Asked Questions

LabMaster ADEX Manual
(html)

LabMaster ADEX Manual
(PDF)
(old)
813537

(new)
813675



LabMaster AD PGH with

60 pin

connector


Purchase the LabMaster ADEX as a direct replacement

The LabMaster AD PGH and the LabMaster ADEX both have the same software programmable gains of 1, 2, 4, 8.
Full Description and Specifications


Scientific Solutions InStep Accessories


Part
Number

Photo

Product Overview

More Information

813510




DeskTop BNC PRO with 60pin connector


Provides Convenient BNC connections
Small footprint DeskTop Unit

11" W x 4" H x 7" D (280mm x 102mm x 178mm)


Connections for 64 Analog Input Signals

Full Description and Specifications

813512




DeskTop BNC PRO with 68pin connector


Provides Convenient BNC connections
Small footprint DeskTop Unit

11" W x 4" H x 7" D (280mm x 102mm x 178mm)


Connections for 64 Analog Input Signals

Full Description and Specifications

813514



LabRack BNC PRO with 68pin connector


Provides Convenient BNC connections

All signals are available using the BNC connections


Rackmount 19" wide by 3U high

Standard 3U high is 5.25" (133mm)


Connections for 64 Analog Input Signals
For a smaller rackmout solution, see the next item!


Full Description and Specifications





LabRack BNC PRO 16 BNC / DB25 with 68pin connector


16 Convenient BNC connections

Each BNC has a pair of wires that can be connected to any position on the internal screw terminal


Convenient DB25 PIN connection

Each pin of the connector has a wire that can be connected to any position on the internal screw terminal


Internal Screw Terminal

You can wire the 16 BNC and the DB25 to the signals you want.


Rackmount 19" wide by 1U high

Standard 1U high is 1.75" (44 mm)


Unit comes with labels for each signal

Allows you to label the connections to match your wiring.

Full Description and Specifications

813555





LabMaster SM64 Analog Input Unit with 60pin connector


Provides Convenient DB25 Analog Input connections
Small unit only 11" wide x 2" tall x 7" deep

Full Description and Specifications
813572



LabMaster DeskTop AIDIO 6416
with

60 pin

connection

DeskTop unit supports 64 Analog Inputs and 16 Digital I/O signals

Two DB37 Analog Input Connections on the front

Analog Input Channels 0 to 31, and Channels 32 to 63

Four BNC Connections on the front

Analog Input Channels 0 to 3


One DB25 Digital I/O Connection on the front

8 bits Digital IN and 8 bits Digital OUT


Connects to LabMaster PRO with 60 pin cable



813574



LabMaster DeskTop AIDIO 6416
with

68 pin

connection


DeskTop unit supports 64 Analog Inputs and 16 Digital I/O signals

Two DB37 Analog Input Connections on the front

Analog Input Channels 0 to 31, and Channels 32 to 63

Four BNC Connections on the front

Analog Input Channels 0 to 3


One DB25 Digital I/O Connection on the front

8 bits Digital IN and 8 bits Digital OUT


Connects to LabMaster PRO with 68 pin cable



813575



LabMaster DeskTop AIDIO 128L16
with

68 pin

connection


DeskTop unit supports 128 Analog Inputs and 16 Digital I/O signals

Four DB37 Analog Input Connections on the front

Analog Input Channels 0 to 31, 32 to 63, 64 to 95, 96 to 127


Four BNC Connections on the front

Analog Input Channels 0 to 3


One DB25 Digital I/O Connection on the front

8 bits Digital IN and 8 bits Digital OUT

Can expand to 256 channels using AIDIO 128H

Connects to LabMaster PRO with 68 pin cable



813576



LabMaster DeskTop AIDIO 128H
with

68 pin

connection

DeskTop unit for additional 128 channels for AIDIO128L16

Four DB37 Analog Input Connections on the front

Analog Input Channels 128 to 159, 160 to 191, 192 to 223, 224 to 255


Connects directly to AIDIO128L16

Must have the AIDIO 128L16 to use the AIDIO 128H




813540



LabMaster DeskTop Screw Termination
with

60 pin

connection and support for

16

Analog Inputs


Provides Convenient screw terminals for signals

16 Analog Input, 2 Analog Output
8 Digital Input, 8 Digital Output, 8 Expansion
Counter / Timer Signals


Housed in small DeskTop unit


Small unit only 11" wide x 2" tall x 7" deep

Full Description and Specifications
813570




LabMaster Desktop Screw Termination
with

60 pin

connection and support for

64

Analog Inputs


Provides Convenient screw terminals for signals

64 Analog Input, 2 Analog Output
8 Digital Input, 8 Digital Output, 8 Expansion
Counter /Timer


Housed in small DeskTop unit


Small unit only 11" wide x 2" tall x 7" deep

Full Description and Specifications
813530




LabMaster DeskTop Screw Termination
with

68 pin

connection and support for

16

Analog Inputs


Provides Convenient screw terminals for signals

16 Analog Input, 2 Analog Output
8 Digital Input, 8 Digital Output, 8 Expansion
Counter / Timer Signals


Housed in small DeskTop unit

Small unit only 11" wide x 2" tall x 7" deep






LabMaster Desktop Screw Termination
with

68 pin

connection and support for

64

Analog Inputs


Provides Convenient screw terminals for signals

64 Analog Input, 2 Analog Output
8 Digital Input, 8 Digital Output, 8 Expansion
Counter /Timer


Housed in small DeskTop unit


Small unit only 11" wide x 2" tall x 7" deep

Full Description and Specifications
813542



LabMaster DeskTop Screw Termination - Mux Expansion


For use with Screw Terminal units that have 16 Analog Input channels

For either 60 or 68 pin versions


Board adds inside the existing ST unit


Increase Analog Input signals from 16 to 64

Includes cable used to connect to existing ST board inside the DeskTop unit




813525




LabMaster ST-BNC 20 Unit
with

60 pin

connection


DeskTop Unit with 20 BNC signal connections

User can wire the BNC to the desired siganals


Each BNC has two internal wires

Easy to connect to the internal screw terminal

Versatility to change the BNC signal connections at any time

Comes with labels you can apply to the BNC panel

Identifies the connections you make


Scientific Solutions can label, install and connect for you

Full Description and Specifications

813535




LabMaster ST-BNC 20 Unit
with

68 pin

connection


DeskTop Unit with 20 BNC signal connections

User can wire the BNC to the desired siganals


Each BNC has two internal wires

Easy to connect to the internal screw terminal

Versatility to change the BNC signal connections at any time

Comes with labels you can apply to the BNC panel

Identifies the connections you make


Scientific Solutions can label, install and connect for you

0821008




Windows Device Driver


32-bit kernel mode driver
WDM driver supports Win98, 2000, XP
Standard LabPac32 DLL function library included


Full Description and Specifications
0821012




LabPac32 Software Application Development Toolkit


Software Development tools for creating your own applicaion
Comes complete with Device Drivers for Scientific Solutions products

WDM Driver Supports Win98, 2000, XP

Software Developer Example programs

Compiled EXE programs

Source Code


C# Compilier

Same compilier used to make examples
Open Source compilier
C# is an object oriented, well-structured and managed language
Easy to create graphical software


Includes MicroSoft dotNET Framework

Allows you to compile programs to run in Windows



942543




Cable, 60 pin high-density, 1.5 meter


For use with LabMaster cards using the 60pin connector
This cable is supplied with the 60pin version of the card and is available as a replacement for lost or damaged cables.

Full Description and Specifications
942544




Cable, 60 pin high-density, 3.0 meter


For use with LabMaster cards using the 60pin connector
1.5meter cable is supplied with the product. This 3 meter cable is only recommended for special applications that require a longer cable - consult with technical support before using.


0361003




Cable, 68 pin high-density, 6 ft.


For use with LabMaster cards using the 68pin connector
This cable is supplied with the 68pin version of the card and is available as a replacement for lost or damaged cables.



Full Description and Specifications
---