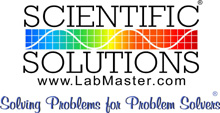 Scientific Solutions ® Inc.
Products for VPM Software

VPM is a powerful general purpose DOS-based data collection and stimulus control program. Its primary function is to control stimulus presentations and collect analog, binary event, and rating data at precise times.
VPM is made to work with the LabMaster DMA / ISA products. Scientific Solutions is proud to support VPM users with repairs, replacements or completely new installations including turn-key systems.
Now LabMaster DPCI is available to run VPM software !
The LabMaster DPCI is a PCI version of the LabMaster DMA that runs VPM software without any modification required. Use your current VPM software with the LabMaster DPCI without any changes required to the software! Now you can use a PCI computer with the LabMaster DPCI and the VPM software!
A Note about Digital I/O Buffering:
The LabMaster DMA / ISA card uses Digital I/O buffer devices to determine which Digital ports are INPUT and which are OUTPUT. Also these devices can configure the Digital signals for INVERTING or NON-INVERTING.
The LabMaster DPCI has automatic Digital buffering which does not require the user to install any buffer devices. The LabMaster DPCI is always NON-INVERTING.
Scientific Solutions offers a LabMaster Trade-in program for VPM users wishing to migrate from ISA to PCI based technology.
LabMaster "ISA" Products for VPM



Part
Number

Image

Product Overview

More Information





The

LabMaster DMA

is a product that consists of ISA card that is installed in the computer and a DeskTop unit. The ISA card and the DeskTop unit are connected using three quick-connect round cables, replacing the ribbon cable arrangement that has been used in the past.

Several DeskTop units are available that provide a variety of connection types. For VPM user's Scientific Solutions recommends the DeskTop MiniJack Unit. This DeskTop Unit provides 3.5mm (1/8") MiniJack connections (similar to audio headphones) for signal connections. This seems to be a convenient connection for VPM installations as many of the installed amplifiers also use 3.5mm type connections. Patch cables are easier to make and more cost effective than other connections such as BNC.



LabMaster DMA Product for VPM Includes:




LabMaster DMA ISA card for inside the computer
Cable Set to connect from the ISA card to the DeskTop unit

68pin HD cable, 6ft.

3.5mm (1/8") stereo cable, 6ft.
DB35M to DB25F cable, 6ft


DeskTop MiniJack Unit

Either HGE or PGH version (both popular with VPM users)


Scientific Solutions Software CD-ROM disk


Choices To Make When Selecting A LabMaster DMA Product:
You have several choices when selecting the LabMaster DMA product.
The following list summarizes these choices:


A/D Speed
Analog Input Gain

HGE - Hardware Gain External

Provides a Gain =1 for all channels

Can increase gain from 1 to 10000 for all channels using a precision gain resistor in the DeskTop unit
Scientific Solutions can install this for you


PGH - Programmable Gain High

Gains for High level signals


Provides software programmable gains of 1, 2, 4 or 8

PGL - Programmable Gain Low

Gains for Low level signals
Provides software programmable gains of 1, 10, 1000

DeskTop Unit

Ribbon Cable unit


Provides same connections as the LabMaster DMA / ISA card

This allows you to replace your ISA card with the PCI card and not have to change any wiring

Screw Terminal Unit

Provides Screw Terminals for signal connections
Slots in the front of the Unit allow for wires to enter/exit

MiniJack Unit

Provides 3.5mm (1/8") stereo "jacks" for signal connections

BNC Unit

Provides industry standard BNC for signal connections

For VPM users Scientific Solutions recommends the following configurations:


A/D Speed: 50KHz
Analog Input Gain: Either HGE or PGH
DeskTop Unit: MiniJack



813604











LabMaster DMA, 12 bit 50KHz, HGE, ST64 MJ 3.5


For ISA based computers

12 bit, 50KHz Analog-to-Digital Conversion
HGE - Hardware Gain = 1 for all Analog Input Channels.

Can be changed to any gain using Precision Resistor

High Density round cable connection from PC to DeskTop unit

Replaces the ribbon cable with an easy quick-connect round cable


Special VPM DeskTop unit with 36 easy access 3.5mm connections


16 Analog Input
16 Digital I/O
2 Analog Output
2 User Defined




813605












LabMaster DMA, 12 bit 50KHz, PGH, ST64 MJ 3.5


For ISA based computers

12 bit, 50KHz Analog-to-Digital Conversion
PGH - Programmable Gain under software control
High Density round cable connection from PC to DeskTop unit

Replaces the ribbon cable with an easy quick-connect round cable


Special VPM DeskTop unit with 36 easy access 3.5mm connections


16 Analog Input
16 Digital I/O
2 Analog Output
2 User Defined




813606



LabMaster DMA, 12 bit 50KHz, PGL, ST64 MJ 3.5


For ISA based computers

12 bit, 50KHz Analog-to-Digital Conversion
PGL - Programmable Gain under software control
High Density round cable connection from PC to DeskTop unit

Replaces the ribbon cable with an easy quick-connect round cable


Special VPM DeskTop unit with 36 easy access 3.5mm connections


16 Analog Input
16 Digital I/O
2 Analog Output
2 User Defined



LabMaster "PCI" Products for VPM



Part
Number

Image

Product Overview

More Information

see below












The

LabMaster DPCI

is a product that consists of small PCI card that is installed in the computer and a DeskTop unit. The PCI card and the DeskTop unit are connected using a single quick-connect round cable.

Several DeskTop units are available that provide a variety of connection types. For VPM user's Scientific Solutions recommends the DeskTop MiniJack Unit. This DeskTop Unit provides 3.5mm (1/8") MiniJack connections (similar to audio headphones) for signal connections. This seems to be a convenient connection for VPM installations as many of the installed amplifiers also use 3.5mm type connections. Patch cables are easier to make and more cost effective than other connections such as BNC.



LabMaster DPCI Product for VPM Includes:




LabMaster DPCI card for inside the computer
6 ft cable to connect from the PCI card to the DeskTop unit

Easy connection with a single quick-connect round cable


DeskTop MiniJack Unit

Either HGE or PGH version (both popular with VPM users)


Power supply for DeskTop Unit

Scientific Solutions Software CD-ROM disk


Choices To Make When Selecting A LabMaster DPCI Product:
You have several choices when selecting the LabMaster DPCI product. The following list summarizes these choices:


A/D Speed
Analog Input Gain

HGE - Hardware Gain External

Provides a Gain =1 for all channels

Can increase gain from 1 to 10000 for all channels using a precision gain resistor in the DeskTop unit
Scientific Solutions can install this for you


PGH - Programmable Gain High

Gains for High level signals


Provides software programmable gains of 1, 2, 4 or 8

PGL - Programmable Gain Low

Gains for Low level signals
Provides software programmable gains of 1, 10, 1000

DeskTop Unit

Ribbon Cable unit


Provides same connections as the LabMaster DMA / ISA card

This allows you to replace your ISA card with the PCI card and not have to change any wiring

Screw Terminal Unit

Provides Screw Terminals for signal connections
Slots in the front of the Unit allow for wires to enter/exit

MiniJack Unit

Provides 3.5mm (1/8") stereo "jacks" for signal connections

BNC Unit

Provides industry standard BNC for signal connections

For VPM users Scientific Solutions recommends the following configurations:


A/D Speed: 50KHz
Analog Input Gain: Either HGE or PGH
DeskTop Unit: MiniJack

If you desire a different configuration, then refer to this link for part numbers of other products in the LabMaster DPCI Family




815370




HGE

LabMaster DPCI, 12 bit 50KHz, HGE, MJ


For PCI based computers

12 bit, 50KHz Analog-to-Digital Conversion
HGE - Hardware Gain = 1 for all Analog Input Channels.

Can be changed to any gain using Precision Resistor
Many users want an input range of -1V to +1V (instead of the default -10V to +10V) which means a hardware Gain=10. Scientific Solutions will configure your unit for this range (or any desired range) upon request.


Single small round cable connection from PC to DeskTop unit
Special VPM DeskTop unit with 36 easy access 3.5mm connections


16 Analog Input
16 Digital I/O
2 Analog Output
2 User Defined



815371




PGH

LabMaster DPCI, 12 bit 50KHz, PGH, ST64 MJ 3.5


For PCI based computers

12 bit, 50KHz Analog-to-Digital Conversion
PGH - Programmable Gain under software control
Single small round cable connection from PC to DeskTop unit
Special VPM DeskTop unit with 36 easy access 3.5mm connections


16 Analog Input
16 Digital I/O
2 Analog Output
2 User Defined



815372




PGL

LabMaster DPCI, 12 bit 50KHz, PGL, ST64 MJ 3.5


For PCI based computers

12 bit, 50KHz Analog-to-Digital Conversion
PGL - Programmable Gain under software control
Single small round cable connection from PC to DeskTop unit
Special VPM DeskTop unit with 36 easy access 3.5mm connections


16 Analog Input
16 Digital I/O
2 Analog Output
2 User Defined



LabMaster Accessories for VPM Installations



Part
Number

Photo

Product Overview

More Information

813545





PC Interface and I/O card

(shown together)

PC Interface and I/O card

(shown separated)

LabMaster DMA / ISA PC Interface with I/O card (round cable connections)


PC Interface only (no cables or external unit)

Comes with both Inverting and Non-inverting Digital I/O buffers
Has the "Ribbon Cable Elimination" board pre-mounted on the LabMaster DMA / ISA

This I/O card snaps right onto the LabMaster DMA PC interface and connects to the header connectors normally used for ribbon cables

The I/O card puts the LabMaster signals on the following connections

68pin HD, 3.5mm (1/8") Stereo MiniJack, DB25M

Uses round cables (not included) to connect to MiniJack Desktop Unit



0801021






HGE


LabMaster DMA / ISA DeskTop MiniJack Unit with HGE gain option


Small External DeskTop Unit only


11" W x 4" H x 7" D (280mm x 102mm x 178mm)

HGE Gain = 1

For use with LabMaster DMA / ISA with the round cable connection




0801022




PGH


LabMaster DMA / ISA DeskTop MiniJack Unit with PGH gain option


Small External DeskTop Unit only


11" W x 4" H x 7" D (280mm x 102mm x 178mm)

PGH Gains of 1, 2, 4, 8

For connection to LabMaster DMA / ISA with the round cable connection



0801023




PGL


LabMaster DMA / ISA DeskTop MiniJack Unit with PGL gain option


Small External DeskTop Unit only


11" W x 4" H x 7" D (280mm x 102mm x 178mm)

PGL Gains of 1, 10, 100

For connection to LabMaster DMA / ISA with the round cable connection



811115




LabMaster DPCI - PCI Interface Only


PCI Interface only (no cables or external unit)
For replacement of lost or damaged original board



0801097




HGE

LabMaster DPCI DeskTop MiniJack Unit with HGE gain option


Small External DeskTop Unit only


11" W x 4" H x 7" D (280mm x 102mm x 178mm)

HGE Gain = 1

For use with LabMaster DPCI




0801098




PGH



LabMaster DPCI DeskTop MiniJack Unit with PGH gain option


Small External DeskTop Unit only


11" W x 4" H x 7" D (280mm x 102mm x 178mm)

PGH Gains of 1, 2, 4, 8

For connection to LabMaster DPCI



0801099




PGL



LabMaster DPCI DeskTop MiniJack Unit with PGH gain option


Small External DeskTop Unit only


11" W x 4" H x 7" D (280mm x 102mm x 178mm)

PGL Gains of 1, 10, 100

For connection to LabMaster DPCI



0301115




Power Supply (desktop) for DeskTop Unit (International Version)



Power supply normally supplied with the DeskTop Unit for International customers

This is a replacement for lost or damaged power supply
AC power supply input connection: IEC320

Requires power cord with proper plug for country of use


INPUT:


AC 110/240V 50/60Hz autosensing
IEC320 three prong socket

Specify country specific power cord at time of order


OUTPUT:

5 VDC, 2.4Amp

Round socket, Center Positive, 2.5mm ID, 5.5mm OD, 9.5mm shaft length




0301127




Power Supply (wall mount) for DeskTop Unit (USA Version)



Power supply normally supplied with the DeskTop Unit for USA customers

This is a replacement for lost or damaged power supply
INPUT:


AC 110-120V 47-63Hz autosensing
USA two flat blade


OUTPUT:


5 VDC, 2.4Amp
Round socket, Center Positive, 2.1mm ID, 5.5mm OD, 12mm shaft length



0361045




6 ft.


DB35M DB25F

Cable, DB25M to DB25F, 6ft

This cable can be used for different applications as noted:


Used to connect from the LabMaster DPCI card to the DeskTop Unit

Replacement for lost or damaged cable
This is the only cable required to connect from the LabMaster DPCI card to the VPM DeskTop unit

Used to connect from the LabMaster DMA / ISA to the DeskTop Unit

Replacement for lost or damaged cable
This brings the Digital I/O signals from the LabMaster DMA to the DeskTop unit

Only required if your application is using Digital signals Port A[4:7], Port B[4:7], Port C[0:7]




0361003




6 ft.


68pin HD 68pin HD

Cable, 68pin High-Density, 6ft


Used to connect from the LabMaster DMA / ISA to the DeskTop unit

Replacement for lost or damaged cable
This brings the Control, A / D data and timing signals from the LabMaster DMA to the DeskTop unit



0361060




6ft.


3.5mm Plug 3.5mmPlug

(mono) (mono)

Cable, MiniJack 3.5mm Plug to MiniJack 3.5mm Plug, Mono, 6ft

This cable has a 3.5mm (1/8") mono plug on each end and is 6 ft. (1.83m) in length.


Used to connect signals into the front of the DeskTop MiniJack unit

This is a "mono" cable with one signal (Tip) and one ground (Ring)

Either a stereo or a mono cable can be used for the DeskTop signals

One end has a "straight" plug whereas the other end has a "right-angle" plug




0361005



6ft.


3.5mm Plug 3.5mmPlug

(stereo) (stereo)

Cable, MiniJack 3.5mm Plug to MiniJack 3.5mm Plug, Stereo, 6ft

This cable has a 3.5mm (1/8") stereo plug on each end and is 6 ft. (1.83m) in length.
This cable can be used for different applications as noted:


Use to connect from the LabMaster DMA / ISA to the DeskTop Unit

Replacement for lost or damaged cable
Use to connect the Analog Output signals from the LabMaster DMA IO Card to the DeskTop Unit.
This is a stereo cable and connects DAC0, DAC1 and GROUND between the PC and the DeskTop Unit


Use to connect signals into the front of the DeskTop VPM unit

This is a "stereo" cable with two signals (Tip, Ring) and one ground (barrel).

Either a stereo or mono cable can be used for the DeskTop signals




0361051




2 ft.


3.5mm Plug 3.5mmPlug

(stereo) (stereo)

Cable, MiniJack 3.5mm Plug to MiniJack 3.5mm Plug, Stereo, 2ft

This cable has a 3.5mm (1/8") stereo plug on each end and is 2 ft. (610mm) in length.


Use to connect signals into the front of the DeskTop MiniJack unit

This is a "stereo" cable with two signals (Tip, Ring) and one ground (barrel).

Either a stereo or mono cable can be used for the DeskTop signals




0361025




5 ft.


3.5mmPlug 2.5mmPlug

(stereo) (mono)

Cable, MiniJack 3.5mm Plug to MicroJack 2.5mm Plug, 5ft.

Sometimes other equipment uses 2.5mm MicroJack instead of the 3.5mm MiniJack.
This cable has a 3.5mm (1/8") Plug on end that will fit into the DeskTop MiniJack connections and a 2.5mm Plug on the other end for your "other equipment"

Wired as follows:
3.5mm Tip ----- 2.5mm Tip
3.5mm Ring ---- 2.5mm Barrel
3.5mm Barrel----no connection



0361052




12 ft.


3.5mm Jack 3.5mmPlug

(stereo) (stereo)

Cable, MiniJack 3.5mm Plug to MiniJack 3.5mm Jack, 12 ft.

This cable has a 3.5mm (1/8") stereo Plug on one side and a 3.5mm (1.8") stereo Jack on the other side and is 12 ft. (3.66m) in length. This is sometimes used as an extension cable if needed - although short cables are always better.



0321068



2.5mm Plug
(mono)


3.5mm Jack
(mono)


Adapter, MiniJack 3.5mm (1/8") Jack to MicroJack 2.5mm Plug

Sometimes other equipment use 2.5mm MicroJack connections instead of 3.5mm MiniJack.
This adapter has a 3.5mm (1/8") Jack (socket) on one end and a 2.5mm Plug on the other end.
You can plug this adapter into the "other equipment" and then use cables that have 3.5mm Plugs on each end to connect from the "other equipment" to the LabMaster MiniJack DeskTop Unit.

The 2.5mm Plug is shown in the upper right of the photo.
The 3.5mm Jack is shown in the lower left of the photo.



0361026




5ft.


3.5mmPlug 1mmPin


Cable, MiniJack 3.5mm Plug to 1mm Pin, 5ft.

Some equipment, such as Coulborne, has a 1mm "socket" (jack) connection. This cable has a 1mm Pin on one end that will fit into the 1mm socket, and a 3.5mm (1/8") Plug on the other end that will fit into the 3.5mm MiniJack connections of the DeskTop Unit.

Wired as follows:
3.5 mm Tip ---- 1mm pin



---