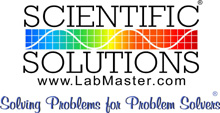 Scientific Solutions ® Inc.
ELMO - ELectric MOtor test environment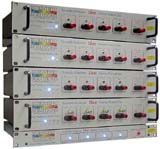 Scientific Solutions Elmo Automotive Window Motor Tester
The Scientific Solutions Elmo test system is designed for the durability testing of electric motors and systems. Although designed with special emphasis for testing automotive window motors, it can also be sued for testing other motors as well.
The system contains software and programmable hardware to control electric window motor UP / DOWN position, detect stall over-current conditions and monitor failures.
The Scientific Solutions Electric Motor Tester consists of a self-contained computer (LabRack® Computer system) incorporating a Scientific Solutions LabMaster PRO data acquisition system.
The computer system connects to a Master Control Unit (MCU) with a single cable connection. The MCU has four additional connections to Device Control Units (DCU). The motors under test connect to the DCU. Each DCU can control up to four devices.
As an example, a fully configured system can simultaneously test 16 electric window motors which is equivalent to our "virtual" cars.
The Elmo product is fully supported by Scientific Solutions' yearly component level and system level calibration services and a comprehensive software maintenance program.
Elmo Product
ELMO - Computer and MCU
Image


Part Number
815306
Title
ELMO - Computer and Master Control Unit (MCU)
Overview

The ELMO test system is designed for the durability testing of electric motors and systems. The systems contains software and programmable hardware to control electric window motor UP/DOWN position, detect stall and over-current conditions and monitor failures. A fully configured system can simultaneounsly test 16 electric window motors.

An ELMO test systems consits of a single LabRack computer, a single Master Control Unit (MCU) and from one to four Device Control Units (DCU).

This part number is for the LabRack computer and the MCU since a test system requires one of each. In addition to this part number, you will want to purchase from 1 to 4 of the DCU, depending upon the number of motors you want to test simultaneously. A single MCU can control up to 4 DCU.

Features

Support for up to 16 "Standard" Electric Window Motors
Support for up to 8 "Smart" Electric Window Motors
ELMO software allows easy test configuration
Monitor Voltage, Stall-Current, Travel Up/Down Time, Temperature
Graphical software to configure test for total time or total number of cycles
Error and data logging

Product Includes

Rack Mount Computer System
Operation System and Elmo Test Software (Pre-Loaded)
LabMaster Data Acquisition Interface pre-installed
Master Control Unit (MCU)
Cable to connect LabRack computer to Master Control Unit (MCU)

Manual
Elmo Manual (pdf)
Elmo Manual (html)
Datasheet
Elmo Datasheet
Product Specifications
Full Description and Specifications
Software
Win32 Device Drivers with LabPac32 function library
FAQ
None
Add to Cart
Elmo - DCU
Image
Part Number
815307
Title
Elmo - Device Control Unit (DCU)
Overview

The ELMO test system is designed for the durability testing of electric motors and systems. The systems contains software and programmable hardware to control electric window motor UP/DOWN position, detect stall and over-current conditions and monitor failures. A fully configured system can simultaneounsly test 16 electric window motors.

An ELMO test systems consits of a single LabRack computer, a single Master Control Unit (MCU) and from one to four Device Control Units (DCU).

This part number is for the Device Control Unit (DCU) which tests 4 "standard" or 2 "smart" window motors when attached to an MCU.

Features

Support for up to 4 "Standard" Electric Window Motors
Support for up to 2 "Smart" Electric Window Motors
Connect up to four DCU to a single MCU
Front panel LED indicator to identify DCU number (1 to 4)
Front 3.5mm for each motor connection (4 total) to measure temperature

Product Includes

Elmo Device Control Unit
Cable to connect DCU to MCU

Manual
Not Available
Datasheet
Not Available
Product Specifications
Full Description and Specifications
Software
Win32 Device Drivers with LabPac32 function library
FAQ
None
Add to Cart
ELMO - Temperature Probe
Image
Part Number
815308
Title
ELMO - Temperature Probe
Overview

The ELMO test system is designed for the durability testing of electric motors and systems. The systems contains software and programmable hardware to control electric window motor UP/DOWN position, detect stall and over-current conditions and monitor failures. A fully configured system can simultaneounsly test 16 electric window motors.

An ELMO test systems consits of a single LabRack computer, a single Master Control Unit (MCU) and from one to four Device Control Units (DCU). Each DCU can control 4 "standard" motors. Also, each DCU has four connections for temperature probes.

This part number is for the Temperature Probe that connects to the front of the DCU.

Features

Easy to connect temperature probe using standard 3.5mm cable
-40 º Celsius to +125 º Celsius (±2 º C)
-40 º Fahrenheit to +257 º Fahrenheit (±4 ºF)
Support for up to 8 "Smart" Electric Window Motors

Product Includes

Elmo Temperature Probe
Cable (12 ft. / 3.7m) to connect temperature proble to DCU

Manual
Not Available
Datasheet
Not Available
Product Specifications
Full Description and Specifications
Software
Win32 Device Drivers with LabPac32 function library
FAQ
None
Add to Cart
Elmo Accessories
Cable, 68 Pin High-Density, 6 ft.
Image
Part Number
361003
Title
Cable, 68 Pin High-Density, 6 ft.
Overview
Cable harness that is 6 ft. in length (1.8 meter) and is terminated on each end with a 68 Pin High-Density connector.
Features

High-Density 68 pin connector

Connects to LabMaster products with mating connector
Many signals thru a physically small connector

Polarized connector eliminates errors and protects equipment
Thumb-screws for a secure connection
9.8 foot length (3.0 meter)
Cable material provides electrical shielding, yet flexible easy to bend and move

Product Includes
Cable harness with 68 Pin High-Density connector on each end
Manual
Not Available
Datasheet
Not Available
Product Specifications
Full Description and Specifications
Software
Not Applicable
FAQ
None
Add to Cart
Cable, DB25M-DB25F, 3 ft. (0.91m)
Image
Part Number
361017
Title
Cable, DB35M to DB25F, 3 ft. (0.91m)
Overview
Round shielded cable with a DB25 Male connector on one end and a DB25 Female connector on the other end.
Features

DB25M to DB25F cable
3 ft. (0.91m) length
Thumb screws
Shielded

Product Includes
Cable
Manual
Not Available
Datasheet
Not Available
Product Specifications
Full Description and Specifications
Software
Not Applicable
FAQ
None
Add to Cart
---