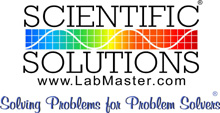 Scientific Solutions ® Inc.
LabMaster ® DMA products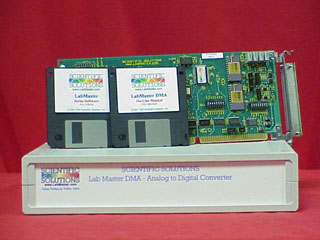 Scientific Solutions LabMaster DMA / ISA card with DeskTop Unit
Only products to receive Test and Measurement World's "Product of the Decade"
T
he LabMaster DMA is the Longest selling and supported PC-based data acquisition product in the world!
First introduced in 1981, the LabMaster DMA products created the PC data acquisition market and were the world's first add in products of any type for the IBM PC.
Awarded Test Product of the Decade in 1991 by Test & Measurement world as recognition of its pioneering status in the industry. With updates and enhancements throughout the years, todays version of the LabMaster products provide current technology while maintaining 100% compatibility with the original.
LabMaster DMA products use an External ADC for Ultra Quiet Measurements!
The multi functional LabMaster DMA products are implemented in a unique two piece design that results in exceptional ultra-low noise measurements.
The product implements the following functions:
Analog-to-Digital Conversion
Digital-to-Analog Conversion
Digital Input, Output and Bi-directional control
Precision Counter / Timer functions with independent Source, Gate and Output capabilities
Used in such diverse applications such as Voltage Clamp (pCLamp); EEG/EKG Neurological measurements; Industrial Process Control; Laboratory Instrumentation Test, Measurement and Control; Gravitational Meters; and Fluorescence Research Instrumentation; - the LabMaster DMA products are available in several models of A/D Resolution, A/D Speed, Amplifier Gain, Digital I/O buffering methods, and external connection options.
ADC Resolution Options
ADC Sampling Rate Options
ADC Gain Options

Hardware Gain (HGE)
Software Programmable Gain PGH with gains of 1, 2, 4, 8
Software Programmable Gain PGL with gains of 1, 10, 100

PGL Gain 500 now only available on special orders

Digital I/O Buffering Options
Several External DeskTop Enclosure Options Available
The LabMaster DMA products consist of two boards:
The LabMaster PC Interface which installs in the computer
The LabMaster External Analog-to-Digital board which is outside of the computer
These two boards are connected with a cable. Some configurations use a flat ribbon cable that is fed thru the bracket on the LabMaster PC Interface, while other configurations use a quick-connect round cable that is much easier to install. The External Analog-to-Digital board can be housed in a number of different enclosures, and is even offered without an enclosure for special OEM configurations.
The products on this page are organized in according to the type external enclosure used:
No external Enclosure
DeskTop Enclosure with ribbon cable connections
DeskTop Enclosure with Screw Terminals
DeskTop Enclosure with MiniJack Connections
DeskTop Enclosure with BNC Connections
Customers using the LabMaster DMA / ISA products may also be interested in the LabMaster DPCI offerings. The LabMaster DPCI is a PCI version of the LabMaster DMA. In most cases, software written for the LabMaster DMA / ISA card can be run on the LabMaster DPCI product without any modification required.
Contact Scientific Solutions regarding the PCI version to replace your existing ISA product!
---
LabMaster DMA without enclosure
LabMaster DMA without Enclosure
Image
Part Number
Following products have 12-bit 50Khz ADC with Gain options as shown:
814130 (ADC: 12-bit 50Khz, Gain=HGE)
814131 (ADC: 12-bit 50Khz, Gain=PGH)
814132 (ADC: 12-bit 50Khz, Gain=PGL)

Following products have 12-bit 160Khz ADC with Gain options as shown:
814133 (ADC: 12-bit 160Khz, Gain=HGE)
814134 (ADC: 12-bit 160Khz, Gain=PGH)
814135 (ADC: 12-bit 160Khz, Gain=PGL)

Title
LabMaster DMA without Enclosure
Overview

The LabMaster DMA product configurations in this section come without an enclosure for the External LabMaster DMA ADC. This configuration is for those applications where the external unit is embedded in some other equipment. Most end users do not get this version as generally an external enclosure is preferable. This version is more popular with OEM (Original Equipment Manufacturers) customers who manufacture their own equipment that use the LabMaster DMA products.

Features

ISA card for inside the computer
External card with A/D circuitry

50 pin header for connection to the LabMaster DMA computer interface
40 pin header for connection of Analog Input signals

You choose ADC speed you need

Choices are 50Khz or 160Khz

You choose Gain options you need

Choices are:

HGE, Hardware Gain of 1 (can change to any gain)
PGH, Software Programmable gain of 1, 2, 4, 8
PGL, Software Programmable gain of 1, 10, 100

Product Includes
LabMaster DMA computer card, External ADC card, 50 pin shielded cable to connect between computer card and DeskTop unit, CDROM with driver and LabPac Library and User's Guide
Manual
LabMaster DMA User's Guide
Datasheet
LabMaster DMA without Enclosure(PDF)
Product Specifications
External ADC card Full Description and Specifications

LabMaster DMA Full Description and Specifications
Software
Win32 Device Drivers with LabPac32 function library
Add to Cart
LabMaster DMA with Ribbon Cable DeskTop Unit
LabMaster DMA with Ribbon Cable DeskTop Unit
Image
Part Number
Following products have 12-bit 50Khz ADC with Gain options as shown:
814120 (ADC: 12-bit 50Khz, Gain=HGE)
814121 (ADC: 12-bit 50Khz, Gain=PGH)
814122 (ADC: 12-bit 50Khz, Gain=PGL)

Following products have 12-bit 160Khz ADC with Gain options as shown:
814123 (ADC: 12-bit 160Khz, Gain=HGE)
814124 (ADC: 12-bit 160Khz, Gain=PGH)
814125 (ADC: 12-bit 160Khz, Gain=PGL)

Following products have 16-bit 160Khz ADC with Gain options as shown:
815120 (ADC: 16-bit 160Khz, Gain=HGE)
815121 (ADC: 16-bit 160Khz, Gain=PGH)
815122 (ADC: 16-bit 160Khz, Gain=PGL)

Title
LabMaster DMA with Ribbon Cable DeskTop Unit
Overview

The LabMaster DMA with Ribbon Cable DeskTop Unit are versions of the LabMaster DMA with a DeskTop unit that uses Ribbon Cable Connections for both the connection to the computer and for the Analog Inputs.

Features

ISA card for inside the computer
DeskTop unit with Ribbon Cable Connections

50 pin for connection to the LabMaster DMA computer interface
40 pin for connection of Analog Input signals

You choose ADC speed you need

Choices are 50Khz or 160Khz

You choose Gain options you need

Choices are:

HGE, Hardware Gain of 1 (can change to any gain)
PGH, Software Programmable gain of 1, 2, 4, 8
PGL, Software Programmable gain of 1, 10, 100

Product Includes
LabMaster DMA computer card, Ribbon Cable DeskTop Unit, 50 pin shielded cable to connect between computer card and DeskTop unit, CDROM with driver and LabPac Library and User's Guide
Manual
LabMaster DMA User's Guide
Datasheet
LabMaster DMA with Ribbon Cable DeskTop Unit Datasheet(PDF)
Product Specifications
Ribbon Cable DeskTop Unit Full Description and Specifications

LabMaster DMA Full Description and Specifications
Software
Win32 Device Drivers with LabPac32 function library
Add to Cart
LabMaster DMA with Screw Terminal DeskTop Unit
LabMaster DMA with Screw Terminal DeskTop Unit
Image
Part Number
Following products have 12-bit 50Khz ADC with Gain options as shown:
814100 (ADC: 12-bit 50Khz, Gain=HGE)
814111 (ADC: 12-bit 50Khz, Gain=PGH)
814102 (ADC: 12-bit 50Khz, Gain=PGL)

Following products have 12-bit 160Khz ADC with Gain options as shown:
814103 (ADC: 12-bit 160Khz, Gain=HGE)
814104 (ADC: 12-bit 160Khz, Gain=PGH)
814105 (ADC: 12-bit 160Khz, Gain=PGL)

Title
LabMaster DMA with Screw Terminal DeskTop Unit
Overview

The LabMaster DMA product configurations in this section come with a DeskTop Screw Terminal unit. This unit has all of the LabMaster DMA signals available as convenient Screw Terminal connectors inside the DeskTop Unit. The connection from the PC Interface to the DeskTop unit is by quick-connector round cables - making it easy to connect with no need to feed cables thru the back of the card inside the computer..

Features

ISA card for inside the computer
DeskTop unit with Internal Screw Terminal Connections

Convennient DeskTop size

11" wide x 7" deep x 2" high (280mm x 178mm x 51mm)

Screw Terminal Connnections

16 Analog Input
2 Analog Output
24 Digital I/O as Port A, B, C
16 Counter /Timer (5-Gate, 5-Out, 5-Source, Fout)
Start-of-Conversion
End-of-Connversion
+5 volts

Easy connection from DeskTop to LabMaster DMA in the computer using Round Quick-connect cables
You choose ADC speed you need

Choices are 50Khz or 160Khz

You choose Gain options you need

Choices are:

HGE, Hardware Gain of 1 (can change to any gain)
PGH, Software Programmable gain of 1, 2, 4, 8
PGL, Software Programmable gain of 1, 10, 100

Product Includes
LabMaster DMA computer card, Screw Terminal DeskTop Unit, Round cables to connect between computer card and DeskTop unit, CDROM with driver and LabPac Library and User's Guide
Manual
LabMaster DMA User's Guide
Datasheet
LabMaster DMA with Screw Terminal DeskTop Unit Datasheet(PDF)
Product Specifications
Screw Terminal DeskTop Unit Full Description and Specifications

LabMaster DMA Full Description and Specifications
Software
Win32 Device Drivers with LabPac32 function library
Add to Cart
LabMaster DMA with Minijack DeskTop Unit
LabMaster DMA with MiniJack DeskTop Unit
Image
Part Number
Following products have 12-bit 50Khz ADC with Gain options as shown:
813604 (ADC: 12-bit 50Khz, Gain=HGE)
813605 (ADC: 12-bit 50Khz, Gain=PGH)
813606 (ADC: 12-bit 50Khz, Gain=PGL)

Following products have 12-bit 160Khz ADC with Gain options as shown:
814200 (ADC: 12-bit 160Khz, Gain=HGE)
814201 (ADC: 12-bit 160Khz, Gain=PGH)
814202 (ADC: 12-bit 160Khz, Gain=PGL)

Title
LabMaster DMA with MiniJack DeskTop Unit
Overview

The LabMaster DMA product configurations in this table come with a DeskTop MiniJack Unit. This unit has the most popular LabMaster DMA signals available as MiniJack (sometimes called 3.5mm, 1/8, or stereo headphone) connectors on a convenient DeskTop Unit. The cable from the PC Interface to the DeskTop unit is by quick-connector round cables - making it easy to connect with no need to feed cables thru the back of the card. In addition to the pre-wired MiniJack signals, there are also two "User Definable" MiniJacks on the DeskTop Unit that the user can connect to any desired signals.

Features

ISA card for inside the computer
DeskTop unit with MiniJack Connections

Convennient DeskTop size

11" wide x 7" deep x 2" high (280mm x 178mm x 51mm)

Convenient Minijack Connections

16 Analog Input
2 Analog Output
16 Digital I/O as Port A and B
2 User Definable

Easy connection from DeskTop to LabMaster DMA in the computer using Round Quick-connect cables
You choose ADC speed you need

Choices are 50Khz or 160Khz

You choose Gain options you need

Choices are:

HGE, Hardware Gain of 1 (can change to any gain)
PGH, Software Programmable gain of 1, 2, 4, 8
PGL, Software Programmable gain of 1, 10, 100

Product Includes
LabMaster DMA computer card, MiniJack DeskTop Unit, Round cables to connect between computer card and DeskTop unit, CDROM with driver and LabPac Library and User's Guide
Manual
LabMaster DMA User's Guide
Datasheet
LabMaster DMA with MiniJack DeskTop Unit Datasheet(PDF)
Product Specifications
MiniJack DeskTop Unit Full Description and Specifications

LabMaster DMA Full Description and Specifications
Software
Win32 Device Drivers with LabPac32 function library
Add to Cart
LabMaster DMA with BNC DeskTop Unit
LabMaster DMA with BNC DeskTop Unit
Image
Part Number
Following products have 12-bit 50Khz ADC with Gain options as shown:
813610 (ADC: 12-bit 50Khz, Gain=HGE)
813611 (ADC: 12-bit 50Khz, Gain=PGH)
813612 (ADC: 12-bit 50Khz, Gain=PGL)

Following products have 12-bit 160Khz ADC with Gain options as shown:
813623 (ADC: 12-bit 160Khz, Gain=HGE)
813624 (ADC: 12-bit 160Khz, Gain=PGH)
813625 (ADC: 12-bit 160Khz, Gain=PGL)

Title
LabMaster DMA with BNC DeskTop Unit
Overview

The LabMaster DMA product configurations in this section come with a DeskTop BNC unit. This unit has all of the LabMaster DMA signals available as BNC connectors on a convenient DeskTop Unit. The cable from the PC Interface to the DeskTop unit is by quick-connector round cables - making it easy to connect with no need to feed cables thru the back of the card.

Features

ISA card for inside the computer
DeskTop unit with BNC Connections

Convennient DeskTop size

11" wide x 7" deep x 2" high (280mm x 178mm x 51mm)

Standard BNC Connections

16 Analog Input
2 Analog Output
24 Digital I/O as Port A, B, C
16 Counter /Timer (5-Gate, 5-Out, 5-Source, Fout)
Start-of-Conversion
End-of-Connversion
+5 volts

Easy connection from DeskTop to LabMaster DMA in the computer using Round Quick-connect cables
You choose ADC speed you need

Choices are 50Khz or 160Khz

You choose Gain options you need

Choices are:

HGE, Hardware Gain of 1 (can change to any gain)
PGH, Software Programmable gain of 1, 2, 4, 8
PGL, Software Programmable gain of 1, 10, 100

Product Includes
LabMaster DMA computer card, DeskTop BNC Unit, Round cables to connect between computer card and DeskTop unit, CDROM with driver and LabPac Library and User's Guide
Manual
LabMaster DMA User's Guide
Datasheet
LabMaster DMA with DeskTop BNC Unit Datasheet(PDF)
Product Specifications
DeskTop BNC Unit Full Description and Specifications

LabMaster DMA Full Description and Specifications
Software
Win32 Device Drivers with LabPac32 function library
Add to Cart
LabMaster DMA Software
LabPac for Windows
Image
Part Number
821012
Title
LabPac Kit-32 for Windows
Overview

LabPac Kit for Windows is a full featured function library that is the Application Programming Interface (API) for all of the Scientific Solutions data acquisition products. The LabPac32 library works with the Scientific Solutions 32-bit, Ring-0, Kernel-Mode Device Drivers to provide a fast, efficient and optimized software program environment.

Simple to use functions handle event counting, precision timing, analog input, analog output, digital input and digital output. LabPac32 is implemented as a standard Dynamic Link Library (DLL) for open compatibility with programming languages and environments.

Features

Software Development toolkit for creating your own applications
Comes complete with Device Drivers for Scientific Solutions Products

WDM Driver supports Win98, Win2K, WinXP, Vista32
LabPac32 DLL as the Application Programming Interface (API)

Software Developer Example Programs

Compiled EXE programs
Source Code
Header files

LabPac API

Full Featured Function Dynamic Link Library
Develop general or specialized Data Acquisition and Control applications
Optimized for speed and flexibility
Communicates directly with the 32-bit, Ring-0, Kernel-Mode Device Driver
Multi-language support

Examples are C, C++, C#, DotNet, Fortran, Pascal, VisualBasic, Java, LabView, etc.

Timed interval processes
Trigger functions on external events
Supports hardware interrupts, DMA and BusMastering

Product Includes
LabPac32 for Windows software
Manual
Not Available
Datasheet
Not Available
Product Specifications
Full Description and Specifications
Software
LabPac32 for Windows Device Drivers and function library
Add to Cart
LabPac for DOS
Image
Part Number
811898
Title
LabPac for DOS
Overview
LabPac for DOS is a sophisticated memory resident driver. It provides DOS applications with a complete data acquisition library that includes functions to handle event counting, precision timing, analog input, analog output, digital input and digital output. LabPac installs as a BIOS-level software interrupt, allowing any language that runs under DOS access to its various functions. Introduced in 1981 for the PC, it is available to support our long-time customers who continue to use DOS based products.
Features

DOS Installable Device Driver and Function Library

Device Drivers to virtualize physical hardware
Library provides wealth of easy-to-use functions

Optimized for speed and flexibility
Continued support for numerous Scientific Solutions Products:

BaseBoard (ISA and PCI)
DADIO
LabTender
LabMaster DMA
LabMaster DPCI

BIOS-Level Memory Resident Driver with Multi-Language support

Callable from any DOS programming language

Timed Interval processes
Data files in binary or ASCII format
World's first Data Acqusition programming environment for the pc

Product Includes
LabPac for DOS software
Manual
Not Available
Datasheet
Not Available
Product Specifications
Full Description and Specifications
Software
LabPac for DOS Device Driver and function library
Add to Cart
LabMaster DMA Product Accessories
LabMaster DMA: Computer card only
Image
Part Number
811990
Title
LabMaster DMA: Computer card only
Overview

This part number is for the LabMaster DMA computer card only. This multifunction card features Digital-to-Analog conversion, Digital I/O and Counter / Timer functions. Analog-to-Digital conversion is obtained when connecting this card to one of the LabMaster DMA DeskTop units. However, the card can be used stand-alone without the ADC feature

Features

LabMaster DMA computer interface

measures 4" x 8" (102mm x 204mm)

Analog-to-Digital Conversion

Two Analog Output channels
Both voltage output and 4-20ma Current loop output
Multiple Output ranges

±10v, ±5v, ±2.5v
0 to +10v, 0 to +5v

12 bit resolution, 200Khz update rate

Digital I/O

24 bits with 8255 register set
Sockets for Buffer devices
Full 8255 Mode 0, 1 and 2
26 pin and 50 pin header for Solid-State Relays

Counter / Timer

Full 9513 Register set
Five 16-bit Timer / Counters
6.25Mhz event countig
Provides precsise A/D sample clocking

Single slot solution with special ribbon cable bracket
Same register set as original 1981 version to run all of your LabMaster software

Product Includes

LabMaster DMA Computer Interface Card
CDROM with sofware and documentation

Manual
LabMaster DMA User's Guide
Datasheet
LabMaster DMA card Datasheet(PDF)
Product Specifications
Full Description and Specifications
Software
Win32 Device Drivers with LabPac32 function library
Add to Cart
Cable, 50 Conductor Shielded Ribbon
Image
Part Number
This cable is available in the following lengths:
938298 - 6 ft. (1.8 m)
938299 - 10 ft. (18 m)
938300 - 50 ft. (90 m)
Title
Cable, 50 Conductor Shielded Ribbon
Overview
50 conductor flat shielded ribbon cable, 6 foot in length (1.8 meter) and terminated on each end with a 50 position header socket connector. This shielded ribbon cable is typically used to connect from the LabMaster DMA computer interface to the external LabMaster DMA DeskTop unit or external A/D card.
Features

High quality ribbon cable
50 conductors
Shielded
Colored stripe to indicate pin 1 location
6 foot length (1.8 meter) standard, 10 ft. and 50 ft. special order
Terminated each end with a 50 position header socket connector

Product Includes
50 conductor flat shielded ribbon cable with attached 50 position header connectors
Manual
Not Available
Datasheet
Not Available
Product Specifications
Full Description and Specifications
Software
Not Applicable
FAQ
None
Add to Cart
Screw Terminal, 10 Position
Image
Part Number
811970
Title
Screw Terminal, 10 Position
Overview
Convenient compact double row clamp style screw terminals makes it easy to connect discrete wires to signals located on 10 pin header connectors. Includes ribbon cable to connect the Screw Terminal Unit to the header connection of your other equipment.
Features

Provides Convenient Screw Terminals
For connection to 10 pin headers
Includes 10 conductor flat ribbon cable

6 ft. (1.8m) length
Each end terminated with 10 position socket header

Product Includes
26 position Screw Terminal, 6ft length 10 conductor flat ribbon cable
Manual
Not Available
Datasheet
Not Available
Product Specifications
Full Description and Specifications
Software
Not Applicable
FAQ
None
Add to Cart
Screw Terminal, 26 Position
Image
Part Number
811972
Title
Screw Terminal, 26 Position
Overview
Convenient compact double row clamp style screw terminals makes it easy to connect discrete wires to signals located on 26 pin header connectors. Includes ribbon cable to connect the Screw Terminal Unit to the header connection of your other equipment.
Features

Provides Convenient Screw Terminals
For connection to 26 pin headers
Includes 26 conductor flat ribbon cable

6 ft. (1.8m) length
Each end terminated with 26 position socket header

Product Includes
26 position Screw Terminal, 6ft length 26 conductor flat ribbon cable
Manual
Not Available
Datasheet
Not Available
Product Specifications
Full Description and Specifications
Software
Not Applicable
FAQ
None
Add to Cart
Screw Terminal, 40 Position
Image
Part Number
811973
Title
Screw Terminal, 40 Position
Overview
Convenient compact double row clamp style screw terminals makes it easy to connect discrete wires to signals located on 40 pin header connectors. Includes ribbon cable to connect the Screw Terminal Unit to the header connection of your other equipment.
Features

Provides Convenient Screw Terminals
For connection to 40 pin headers
Includes 40 conductor flat ribbon cable

6 ft. (1.8m) length
Each end terminated with 40 position socket header

Product Includes
40 position Screw Terminal, 6ft length 40 conductor flat ribbon cable
Manual
Not Available
Datasheet
Not Available
Product Specifications
Full Description and Specifications
Software
Not Applicable
FAQ
None
Add to Cart
Screw Terminal, 50 Position
Image
Part Number
811974
Title
Screw Terminal, 50 Position
Overview
Convenient compact double row clamp style screw terminals makes it easy to connect discrete wires to signals located on 50 pin header connectors. Includes ribbon cable to connect the Screw Terminal Unit to the header connection of your other equipment.
Features

Provides Convenient Screw Terminals
For connection to 50 pin headers
Includes 50 conductor flat ribbon cable

6 ft. (1.8m) length
Each end terminated with 50 position socket header

Product Includes
50 position Screw Terminal, 6ft length 50 conductor flat ribbon cable
Manual
Not Available
Datasheet
Not Available
Product Specifications
Full Description and Specifications
Software
Not Applicable
FAQ
None
Add to Cart
Cable, 50 conductor ribbon, 6 ft (1.8m)
Image
Part Number
943265
Title
Cable, 50 conductor ribbon, 6ft (1.8m)
Overview
50 conductor flat ribbon cable, 6 foot in length (1.8 meter) and terminated on each end with a 50 position header socket connector.
Features

High quality ribbon cable
50 conductors
Colored stripe to indicate pin 1 location
6 foot length (1.8 meter)
Terminated each end with a 50 position header socket connector

Product Includes
50 conductor flat ribbon cable with attached 50 position header connectors
Manual
Not Available
Datasheet
Not Available
Product Specifications
Full Description and Specifications
Software
Not Applicable
FAQ
None
Add to Cart
Cable, 40 conductor ribbon, 6 ft (1.8m)
Image
Part Number
938605
Title
Cable, 40 conductor ribbon, 6ft (1.8m)
Overview
40 conductor flat ribbon cable, 6 foot in length (1.8 meter) and terminated on each end with a 40 position header socket connector.
Features

High quality ribbon cable
40 conductors
Colored stripe to indicate pin 1 location
6 foot length (1.8 meter)
Terminated each end with a 40 position header socket connector

Product Includes
40 conductor flat ribbon cable with attached 40 position header connectors
Manual
Not Available
Datasheet
Not Available
Product Specifications
Full Description and Specifications
Software
Not Applicable
FAQ
None
Add to Cart
Cable, 26 conductor ribbon, 6 ft (1.8m)
Image
Part Number
361036
Title
Cable, 26 conductor ribbon, 6ft (1.8m)
Overview
26 conductor flat ribbon cable, 6 foot in length (1.8 meter) and terminated on each end with a 26 position header socket connector.
Features

High quality ribbon cable
26 conductors
Colored stripe to indicate pin 1 location
6 foot length (1.8 meter)
Terminated each end with a 26 position header socket connector

Product Includes
26 conductor flat ribbon cable with attached 26 position header connectors
Manual
Not Available
Datasheet
Not Available
Product Specifications
Full Description and Specifications
Software
Not Applicable
FAQ
None
Add to Cart
Cable, 10 conductor ribbon, 6 ft (1.8m)
Image
Part Number
938602
Title
Cable, 10 conductor ribbon, 6ft (1.8m)
Overview
10 conductor flat ribbon cable, 6 foot in length (1.8 meter) and terminated on each end with a 10 position header socket connector.
Features

High quality ribbon cable
10 conductors
Colored stripe to indicate pin 1 location
6 foot length (1.8 meter)
Terminated each end with a 10 position header socket connector

Product Includes
10 conductor flat ribbon cable with attached 10 position header connectors
Manual
Not Available
Datasheet
Not Available
Product Specifications
Full Description and Specifications
Software
Not Applicable
FAQ
None
Add to Cart
Bracket Assembly for Ribbon Cables
Image
Part Number
938232 - Complete Bracket Assembly

Assembly consists of the following parts
938212 - Bracket, board retaining
938231 - Bracket, cable clamp
938230 - Bracket, strain relief clamp

Title
Bracket Assembly for Ribbon Cables
Overview
This is the Bracket Assembly that is used on the BaseBoard / ISA, LabMaster DMA and LabTender / ISA products. The Bracket Assembly is mounted on these boards and secures the boards inside of the computer, provides for several ribbon cables to connect to the board and exit the back of the computer, and clamps the ribbon cables to provide shielding and also strain relief. Although we use this bracket on our own products, others have also purchased this bracket to use of their products.
Features

High quality Steel construction
Chrome finish
Provides the following functions:

Secures the circuit board inside the computer
Allows multiple ribbon cables to exit the computer
Provides electrical shielding
Provides very secure strain-relief of the ribbon cables

Product Includes
Bracket Assembly
Manual
Not Available
Datasheet
Not Available
Product Specifications
Full Description and Specifications
Software
Not Applicable
FAQ
None
Add to Cart
---