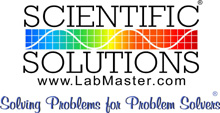 Scientific Solutions ® Inc.
LabMaster ® EP - ElectroPhysiology Solution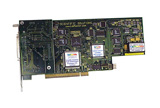 Scientific Solutions LabMaster PRO PCI Data Acquisition Card
The Scientific Solutions LabMaster PRO EP is designed for working ElectroPhysiologists. It includes advanced computer data acquisition hardware and powerful windows graphical software.
The computer hardware is based upon the Scientific Solutions powerful LabMaster PRO. This product consists of a low-noise, high-speed data acquisition card that is installed in the computer and a convenient BNC signal unit. With sample rates of ½ MegaSample / second, true 16-bit resolution, on-board memory, and PCI BusMaster technology; the LabMaster PRO EP hardware is designed for continuous and reliable data acquisition in the multi-tasking windows environment.
The ElectroPhysiology Software Suite (The EP suite), developed for whole-cell recording and data analysis, provides the tools for designing and running voltage-clamp and current clamp experiments with the LabMaster PRO hardware. Efficient data-collection; run-time clamp monitoring; and a host of analysis, filtering and data-editing tools round out this powerful, yet easy-to-use windows-based graphical software.
Features:
LabMaster PRO hardware for your computer
Convenient BNC Signal Unit

Industry standard BNC connections makes it an easy connection to your ElectroPhysiology amplifier

Windows based ElectroPhysiology Software Suite
Powerful, yet easy-to-use Graphical User Interface (GUI)

Graphically define your clamp Protocol
Post Acquisition Analysis, Curve-Fitting, Filtering
Import / Export a variety of formats

Extremely configurable to work with virtually any ElectroPhysiology Amplifier
What you Get
LabMaster PRO card configured specifically for the EP suite. You install this card into a PCI slot of your computer. The LabMaster comes with a cable for conection to the BNC Signal Unit.
The BNC Signal Unit that contains the same laboratory grade BNC connections for all the Analog Inputs / Outputs, Timer, and Digital I/O signals you need!
The EP Software Suite Disc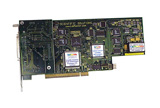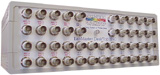 What You Need
Computer with Windows 98, 2000, XP or Vista-32

We can also supply a pre-loaded computer with operating system, LabMaster EP hardware and software

Patch-Clamp amplifier such as from Dagan, Axon or someone else..
Cables to connnect the Patch Clamp amplifier to the LabMaster Signal Unit

BNC Cables to connect to the Signal Unit
We can also supply cables per your requirements
What You Do
Install the EP software in your computer, then install the LabMaster PRO card and connect it to the LabMaster Signal Unit
Connect your Patch-Clamp Amplifier to the LabMaster Signal Unit
Run the EP-Software, configure and calibrate your setup and acquire your data!
---
LabMaster EP Solutions
LabMaster EP with DeskTop BNC
Image
Part Number
815315
Title
LabMaster EP with DeskTop BNC
Overview
This part number is for the LabMaster EP product with the DeskTop BNC unit
Features

LabMaster EP solution for ElectroPhysiologists
Hardware:

DeskTop BNC Unit

Convient small DeskTop unit
11" wide x 4" tall x 7" deep (280mm x 102mm x 178mm)

LabMaster PRO PCI card

Software:

LabMaster EP Software Suite

Product Includes
Hardware: LabMaster PRO and DeskTop BNC, Software: LabMaster EP Suite
Manual
Not Available
Datasheet
LabMaster EP Datasheet
Product Specifications
LabMaster EP Software Description

Software
included with product
FAQ
None
Add to Cart
---