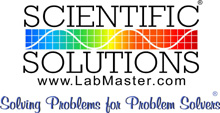 Scientific Solutions ® Inc.
LabMaster ® ADEX product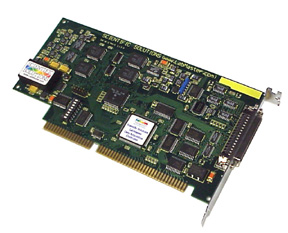 Scientific Solutions LabMaster ADEX card
The LabMaster ADEX provides true 16 bit 330Khz measurements on a single small ISA card!
The LabMaster Advanced Design Extended (ADEX) combines the features of several high-performance products into a single PC card. With a full range of features such as Analog Input, Analog Output, Digital I/O and Precision Timer/Counters - the LabMaster ADEX provides the functionality required for a wide range of test and measurement applications.
Great care is taken in the design and manufacturing of the LabMaster ADEX to insure a quality product that provides accuracy and stability for demanding applications. Its unique features, rugged design and reliability make it ideal for acquiring and analyzing data in industrial, scientific, and educational fields.
Complete 100% compatibility with the LabMaster AD!
True 16 bit ADC and DAC
High-speed 330Khz operation!
Capable of Multiple Concurrent DMA and/or IRQ for optional performance!
On-board Sample Memory for data integrity in long-latency operating systems!
The LabMaster ADEX is a direct replacement for the LabMaster AD (PGH) with new features such as a smaller physical size and increased resolution A/D and D/A converters from 12-bit to 16-bit.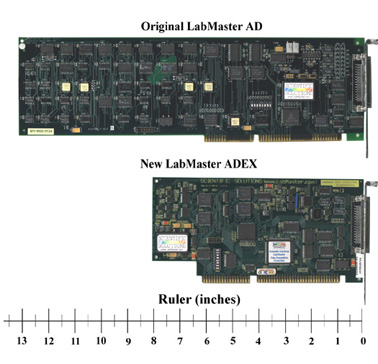 smaller LabMaster ADEX compared to larger LabMaster AD
Whether your applications are laboratory research, product development or production testing, the LabMaster ADEX is up to the task and should provide you with years of reliable and trusted service.
A variety of DeskTop units available for connecting to the LabMaster ADEX are also included on this product page. These DeskTop units provide a variety of connection options including Screw Terminals, BNC, D-sub, header connections, etc.
Suggested uses includes ultra-low Noise acquisitions for medical EEG/EKG, sleep labs, sensor measurements, or product development and testing. High channel count (up to 64 Analog Inputs) and versatile expandability to meet your particular requirements.
Software support includes a our Kernel-mode windows device drivers and our LabPac function library
---
LabMaster ADEX Product
LabMaster ADEX with 60 pin Connector
Image
Part Number
813675
Title
LabMaster ADEX
Overview

The LabMaster Advanced Design Extended (ADEX) combines the features of several high-performance products into a single PC card for the ISA bus. With a full range of features such as Analog Input, Analog Output, Digital I/O and Precision Timer/Counters - the LabMaster ADEX provides the functionality required for a wide range of test and measurement applications.

The LabMaster ADEX is a direct replacement for the LabMaster AD (PGH) with new features such as a smaller physical size and increased resolution A/D and D/A converters (16 bit up from 12 bit).

Features

Short size ISA Interface

4" x 8.3" (102mm x 211mm)

Complete 100% compatible to LabMaster AD
Analog Input A/D Conversion

16-bit resolution
16 expandable to 64 input channels
333,000 sample / second
±10v input
Dedicated on-board sample memory
Auto-sequence channel / gain array table

Analog Input Software Programmable Gain

Input gains of 1, 2, 4, 8
Annalog Input ranges of ±10, ±5, ±2.5, ±1.25 volts

Analog Output D/A Conversion

16-bit resolution
2 output channels
500,000 sample / second
±10v output
Dedicated on-board sample memory

Digital I/O

Dedicated 8 bits output port
Dedicated 8 bits input port
Expansion for additional 256 output and input ports

Timer / Counter

16-bit resolution per timer / counter
Five on-board timer / counter
Each timer / counter has Source, Gate and Output
9513 counter / timer implementation

One high-density external connector

Product Includes
LabMaster ADEX ISA card with 60 pin connector, High-density 60 pin cable, CDROM with driver and LabPac Library, Documentation
Manual
LabMaster ADEX User's Guide (PDF)
Datasheet
LabMaster ADEX Datasheet(PDF)
Product Specifications
Full Description and Specifications
Software
Win32 Device Drivers with LabPac32 function library
Add to Cart
LabMaster ADEX Software
LabPac for Windows
Image
Part Number
821012
Title
LabPac Kit-32 for Windows
Overview

LabPac Kit for Windows is a full featured function library that is the Application Programming Interface (API) for all of the Scientific Solutions data acquisition products. The LabPac32 library works with the Scientific Solutions 32-bit, Ring-0, Kernel-Mode Device Drivers to provide a fast, efficient and optimized software program environment.

Simple to use functions handle event counting, precision timing, analog input, analog output, digital input and digital output. LabPac32 is implemented as a standard Dynamic Link Library (DLL) for open compatibility with programming languages and environments.

Features

Software Development toolkit for creating your own applications
Comes complete with Device Drivers for Scientific Solutions Products

WDM Driver supports Win98, Win2K, WinXP, Vista32
LabPac32 DLL as the Application Programming Interface (API)

Software Developer Example Programs

Compiled EXE programs
Source Code
Header files

LabPac API

Full Featured Function Dynamic Link Library
Develop general or specialized Data Acquisition and Control applications
Optimized for speed and flexibility
Communicates directly with the 32-bit, Ring-0, Kernel-Mode Device Driver
Multi-language support

Examples are C, C++, C#, DotNet, Fortran, Pascal, VisualBasic, Java, LabView, etc.

Timed interval processes
Trigger functions on external events
Supports hardware interrupts, DMA and BusMastering

Product Includes
LabPac32 for Windows software
Manual
Not Available
Datasheet
Not Available
Product Specifications
Full Description and Specifications
Software
LabPac32 for Windows Device Drivers and function library
Add to Cart
LabMaster ADEX DeskTop units
DeskTop BNC with 60 Pin Connector
Image
Part Number
813510
Title
DeskTop BNC with 60 Pin Connector
Overview
The DeskTop BNC provides convenient industry standard BNC connections for the LabMaster signals in a small compact desktop unit.
Features

Small DeskTop unit
Front Panel BNC Signal Connections

Analog Inputs
Analog Outputs
Digital I/O
Timer / Counter

Back Panel Additional Connections

60 Pin Connection for LabMaster
Additional Analog Inputs for 64 channels
Expansion connections for up to 256 Analog Inputs

Single Quick-Connect Connection to LabMaster card

Product Includes
DeskTop BNC unit
Manual
Not Available
Datasheet
Not Available
Product Specifications
Full Description and Specifications
Software
Win32 Device Drivers with LabPac32 function library
FAQ
None
Add to Cart
DeskTop BNC Analog Expansion - Ain 16 to Ain 31
Image
Part Number
813511
Title
DeskTop BNC Analog In Expansion Channels 16 to 31
Overview
The Scientific Solutions DeskTop BNC Analog Input Expansion unit connects to the LabMaster DeskTop BNC and provides BNC connections for additional Analog Input signals. The LabMaster DeskTop BNC has BNC connections for 16 Analog Inputs. By adding the Analog Input Expansion unit to the DeskTop BNC, you can increase the number of Analog Input BNC connections. There are three versions of this unit, one to add channels 16 to 31; another to add channels 32 to 47; and a third unit to add channels 48 to 63. Each unit comes with a cable that connects to your existing DeskTop BNC unit. The Analog Input Expansion units sit on top of the DeskTop BNC unit.
Features

Provides BNC connections for additional Analog Inputs
Connects directly to your current LabMaster DeskTop BNC unit
Three configurations available, each adding an additional 16 Analog Inputs
Increases your DeskTop configuration above the 16 standard up to 64 Analog Inputs
Small and compact, works with the 60 and 68 Pin versions of the DeskTop BNC

Product Includes
DeskTop BNC Ai Expansion Unit along with cable to connect to an existing LabMaster DeskTop BNC
Manual
Not Available
Datasheet
Not Available
Product Specifications
Full Description and Specifications
Software
Win32 Device Drivers with LabPac32 function library
FAQ
None
Add to Cart
DeskTop BNC Analog Expansion - Ain 32 to Ain 47
Image
Part Number
813515
Title
DeskTop BNC Analog In Expansion Channels 32 to 47
Overview
The Scientific Solutions DeskTop BNC Analog Input Expansion unit connects to the LabMaster DeskTop BNC and provides BNC connections for additional Analog Input signals. The LabMaster DeskTop BNC has BNC connections for 16 Analog Inputs. By adding the Analog Input Expansion unit to the DeskTop BNC, you can increase the number of Analog Input BNC connections. There are three versions of this unit, one to add channels 16 to 31; another to add channels 32 to 47; and a third unit to add channels 48 to 63. Each unit comes with a cable that connects to your existing DeskTop BNC unit. The Analog Input Expansion units sit on top of the DeskTop BNC unit.
Features

Provides BNC connections for additional Analog Inputs
Connects directly to your current LabMaster DeskTop BNC unit
Three configurations available, each adding an additional 16 Analog Inputs
Increases your DeskTop configuration above the 16 standard up to 64 Analog Inputs
Small and compact, works with the 60 and 68 Pin versions of the DeskTop BNC

Product Includes
DeskTop BNC Ai Expansion Unit along with cable to connect to an existing LabMaster DeskTop BNC
Manual
Not Available
Datasheet
Not Available
Product Specifications
Full Description and Specifications
Software
Win32 Device Drivers with LabPac32 function library
FAQ
None
Add to Cart
DeskTop BNC Analog Expansion - Ain 48 to Ain 63
Image
Part Number
813516
Title
DeskTop BNC Analog In Expansion Channels 48 to 63
Overview
The Scientific Solutions DeskTop BNC Analog Input Expansion unit connects to the LabMaster DeskTop BNC and provides BNC connections for additional Analog Input signals. The LabMaster DeskTop BNC has BNC connections for 16 Analog Inputs. By adding the Analog Input Expansion unit to the DeskTop BNC, you can increase the number of Analog Input BNC connections. There are three versions of this unit, one to add channels 16 to 31; another to add channels 32 to 47; and a third unit to add channels 48 to 63. Each unit comes with a cable that connects to your existing DeskTop BNC unit. The Analog Input Expansion units sit on top of the DeskTop BNC unit.
Features

Provides BNC connections for additional Analog Inputs
Connects directly to your current LabMaster DeskTop BNC unit
Three configurations available, each adding an additional 16 Analog Inputs
Increases your DeskTop configuration above the 16 standard up to 64 Analog Inputs
Small and compact, works with the 60 and 68 Pin versions of the DeskTop BNC

Product Includes
DeskTop BNC Ai Expansion Unit along with cable to connect to an existing LabMaster DeskTop BNC
Manual
Not Available
Datasheet
Not Available
Product Specifications
Full Description and Specifications
Software
Win32 Device Drivers with LabPac32 function library
FAQ
None
Add to Cart
LabMaster SM64 Analog Input Unit with 60 Pin Connector
Image
Part Number
813555
Title
LabMaster SM64 Analog Input Unit with 60 Pin Connector
Overview
The LabMaster SM64 DeskTop unit is used by SandMan and other applications to provide from 16 up to 64 Analog Input Channels. On the front of the unit are four DB25 connectors, each providing 16 Analog Inputs. On the back is a 60 Pin connector for use with the LabMaster AD/ADEX or LabMaster PRO cards that also use the same 60 Pin connector.
Features

Small DeskTop unit
64 Analog Input Connections

Increases the number of Analog Inputs from 16 to 64
Conveniently arranged as 16 Analog Input signals per each of the four DB25

60 Pin Connection for LabMaster AD, ADEX or PRO

Product Includes
LabMaster SM64 Unit
Manual
Not Available
Datasheet
Not Available
Product Specifications
Full Description and Specifications
Software
Win32 Device Drivers with LabPac32 function library
FAQ
None
Add to Cart
LabMaster DC8 Analog Input Unit
Image
Part Number
813565
Title
LabMaster DC8 Analog Input Unit
Overview
The LabMaster DC8 Expansion Unit connects to the DeskTop BNC or LabMaster SM64 to provide convenient MiniJack connections to 8 Analog Inputs. The design of the unit is such that each of the Analog Inputs are automatically connected to ground when not in use. Popular with sleep lab applications such as SandMan or where you want to use low-cost 3.5mm (1/8") stereo plugs for your signals.
Features

8 Analog Input connections
Convenient 3.5mm (1/8") MiniJack connectors

Use low cost stereo cables with standard MiniJack plugs
Un-used analog inputs are automatically grounded

Easy connection to your existing LabMaster equipment

Single DB25 cable to LabMaster SM64 or LabMaster DeskTop BNC unit
cable included

Poplular for DC signal connections in sleep labs
Convenient small size only 2" x 5.25" x 5.25" (51mm x 134mm x 134mm)

Product Includes
LabMaster DC8 Unit, 3ft DB25M-DB25F cable
Manual
Not Available
Datasheet
Not Available
Product Specifications
Full Description and Specifications
Software
Win32 Device Drivers with LabPac32 function library
FAQ
None
Add to Cart
LabMaster DC16 Analog Input Unit
Image
Part Number
813566
Title
LabMaster DC16 Analog Input Unit
Overview
The LabMaster DC16 Expansion Unit connects to the DeskTop BNC or LabMaster SM64 to provide convenient MiniJack connections to 16 Analog Inputs. The design of the unit is such that each of the Analog Inputs are automatically connected to ground when not in use. Popular with sleep lab applications such as SandMan or where you want to use low-cost 3.5mm (1/8") stereo plugs for your signals.
Features

16 Analog Input connections
Convenient 3.5mm (1/8") MiniJack connectors

Use low cost stereo cables with standard MiniJack plugs
Un-used analog inputs are automatically grounded

Easy connection to your existing LabMaster equipment

Single DB25 cable to LabMaster SM64 or LabMaster DeskTop BNC unit
cable included

Poplular for DC signal connections in sleep labs
Convenient small size only 2" x 5.25" x 5.25" (51mm x 134mm x 134mm)

Product Includes
LabMaster DC16 Unit, 3ft DB25M-DB25F cable
Manual
Not Available
Datasheet
Not Available
Product Specifications
Full Description and Specifications
Software
Win32 Device Drivers with LabPac32 function library
FAQ
None
Add to Cart
LabMaster DeskTop AIDIO 6416 (60 pin)
Image
Part Number
813572
Title
LabMaster DeskTop AIDIO 6416 (60 pin)
Overview

This LabMaster DeskTop unit sukpports 64 Analog Input and 16 Digital I/O signals and connects to the LabMaster AD, ADEX or PRO that use 60 pin connections.

Features

Convenient Laboratory grade DeskTop unit

11" wide x 2" tall x 7" deep (280mm x 51mm x 178mm)

64 Analog Inputs available on two DB37 connections
Four BNC connections for Analog inputs 0 to 3
16 Digital I/O signals on a single DB25 connection
Single 60 pin cable to the LabMaster card

Product Includes
LabMaster AIDIO DeskTop unit
Manual
Not Available
Datasheet
Not Available
Product Specifications
Not Available
Software
Win32 Device Drivers with LabPac32 function library
FAQ
None
Add to Cart
LabMaster Screw Terminals, 16 Analog In, 60 Pin Connector
Image
Part Number
813540
Title
LabMaster Screw Terminal, 16 Analog In, 60 Pin Connector
Overview
This Screw Termination Unit provides convenient screw terminals for easy and quick discrete wire connection to LabMaster signals. The screw terminal is housed in a small footprint desktop unit. The front of the unit has slots for the disrete wires to enter the unit. The back of the unit has a single connector for a cable connection to the LabMaster.
Features

Small DeskTop unit
Front Panel slots for signal wires
Screw Terminals for:

16 Analog Inputs
2 Anlaog Outputs
24 Digital I/O
9 Counter / Timer signals
5 Control Signals

60 Pin LabMaster Connection

Product Includes
LabMaster ST56 Screw Terminal Unit
Manual
Not Available
Datasheet
Not Available
Product Specifications
Full Description and Specifications
Software
Win32 Device Drivers with LabPac32 function library
FAQ
None
Add to Cart
LabMaster DeskTop Screw Terminal, 64 Analog Inputs (60 pin)
Image
Part Number
813570
Title
LabMaster DeskTop Screw Terminal with 64 Analog Inputs (60 pin)
Overview

This Screw Termination Unit provides a convenient custom screw terminal for easy and quick discrete signal connection in the lab. The screw terminal is housed in a small footprint desktop unit and connects to the LabMaster PC Interface with a single cable.

The front of the desktop unit contains openings for cables to gain access to the internal screw terminals. The back of the unit contains the connector for the LabMaster PC Interface. The unit connects to the LabMaster PC interface using the single high-density shielded cable provided with the LabMaster card.

The Screw Terminal unit is available with either a 60 pin or a 68 pin connection to your LabMaster card. If you have a LabMaster AD or ADEX, then you will want the 60 pin version. If you have a LabMaster PRO, then you will want to be sure and get the version that matches the connection on your LabMaster PRO card.

Features

Convenient rugged screw terminals for the LabMaster signals

Analog Input (64 signals)
Analog Output (2 sigals)
Digital I/O (24 signals)
Counter / Timer (9 signals)
Control (5 signals)

Laboratory grade DeskTop enclosure
Easy single 60 pin high-density cable connection to the LabMaster card

Product Includes
LabMaster Screw Terminal DeskTop unit
Manual
Not Available
Datasheet
Not Available
Product Specifications
Full Description and Specifications
Software
Win32 Device Drivers with LabPac32 function library
FAQ
None
Add to Cart
LabMaster DeskTop Screw Termination - Analog Mux Expansion
Image
Part Number
813542
Title
LabMaster DeskTop Screw Termination - Analog Mux Expansion
Overview

This circuit board installs in a LabMaster Screw Termination DeskTop unit and increases the number of Analog Input channels from 16 to 64.

Features

Use with Screw Termination units that have only 16 Analog Input channels
Circuit board installs inside the existing DeskTop unit
Increases Analog Inputs from 16 to 64
Includes internal cable to conect to exisiting DeskTop circuit board

Product Includes
LabMaster Screw Termination Analog Mux Expansion card, internal ribbon cable
Manual
Not Available
Datasheet
Not Available
Product Specifications
Not Available
Software
Win32 Device Drivers with LabPac32 function library
FAQ
None
Add to Cart
LabMaster ST/BNC-20 DeskTop Unit (60 pin)
Image
Part Number
813525
Title
LabMaster ST-BNC 20 DeskTop Unit (60 pin)
Overview

This LabMaster ST-BNC 20 DeskTop unit connects to the LabMaster AD, ADEX, or PRO using a 60 pin connector (Not 68).

The DeskTop ST-BNC 20 provides convenient industry standard BNC connections for 20 of the LabMaster signals in a small compact desktop unit.

Internally, each BNC connector has two wires - one for signal, and the other for ground. Also inside the unit is a full custom screw terminal that has "ALL" of the LabMaster signals. This unit provides the user with the ability to "customize" the front panel connections. Many applications don't need all of the signals that the LabMaster can handle. The DeskTop ST-BNC 20 was created for those applications that just need a few of the signals (up to 20).

Features

Convenient Sized DeskTop Unit

11" wide x 2" high x 7" deep (280mmx 51mm x 178mm)

Provides 20 BNC connections on the front
Internal screw terminal with all 48 LabMaster signals
Easy connection from the screw terminal to the BNC connectors

Lets you choose the signals you want!
Includes set of peel-and-stick labels to identify the BNC connections

Single Cable connection back to the LabMaster computer interface

Product Includes
LabMaster ST-BNC DeskTop Unit
Manual
LabMaster ST-BNC 20 User's Guide
Datasheet
LabMaster ST-BNC 20 Datasheet(PDF)
Product Specifications
Full Description and Specifications
Software
Win32 Device Drivers with LabPac32 function library
Add to Cart
LabMaster ADEX Accessories
Cable, 60 Pin High-Density, 1.5m
Image
Part Number
942543
Title
Cable, 60 Pin High-Density, 1.5m
Overview
Cable harness that is 1.5 meter in length (4.9 ft.) and is terminated on each end with a 60 Pin High-Density connector.
Features

High-Density DDK 60 pin connector

Connects to LabMaster products with mating connector
Many signals thru a physically small connector

Polarized connector eliminates erros and protects equipment
Latch connectors creates strong connection without bulky thumb-screws
4.9 foot length (1.5 meter)
Cable material provides electrical shielding, yet flexible easy to bend and move

Product Includes
Cable harness with 60 Pin High-Density connector on each end
Manual
Not Available
Datasheet
Not Available
Product Specifications
Full Description and Specifications
Software
Not Applicable
FAQ
None
Add to Cart
Cable, 60 Pin High-Density, 3.0m
Image
Part Number
942544
Title
Cable, 60 Pin High-Density, 3.0m
Overview
Cable harness that is 3.0 meter in length (9.8 ft.) and is terminated on each end with a 60 Pin High-Density connector.
Features

High-Density DDK 60 pin connector

Connects to LabMaster products with mating connector
Many signals thru a physically small connector

Polarized connector eliminates erros and protects equipment
Latch connectors creates strong connection without bulky thumb-screws
9.8 foot length (3.0 meter)
Cable material provides electrical shielding, yet flexible easy to bend and move

Product Includes
Cable harness with 60 Pin High-Density connector on each end
Manual
Not Available
Datasheet
Not Available
Product Specifications
Full Description and Specifications
Software
Not Applicable
FAQ
None
Add to Cart
---