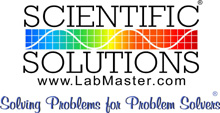 Scientific Solutions ® Inc.
jClamp Products

Scientific Solutions has been providing data acquisision products particularly for whole-cell voltage clamp data acquisition since the early 1980s.
jClamp for Windows is a whole-cell voltage clamp data acquisition program which features real time monitoring of cell and voltage clamp characteristics.
jClamp is freely available for the Scientific Solutions LabMaster 20009 (non-DMA) and LabMaster DMA products including Axon TL-1 versions of the LabMaster.
Now LabMaster DPCI is available!
The LabMaster DPCI is a PCI version of the LabMaster 20009 / LabMaster DMA that runs the FREE version of the jClamp for Windows software. You can either use your existing LabMaster ISA cards, or the LabMaster DPCI products for your jClamp needs.
Scientific Solutions offers a LabMaster Trade-in program for those users wishing to migrate from ISA to PCI based technology.
The Scientific Solutions LabMaster products for the personal computer were first introduced in 1981. In 1987, DMA capabilities were added and the product name updated to LabMaster DMA - to distinguish from the prevoius non-DMA version. Besides the DMA features, the LabMaster (also called LabMaster 20009) and LabMaster DMA products are essentially the same. The current version of the LabMaster DMA uses newer surface mount technology and is a physically smaller circuit board - but remains 100% compatible. Sold and supported for almost 25 years the LabMaster DMA products are the longest selling and supported computer product of any type. The product received the first Test & Measurement world "Product of the Decade" for its pioneering role in computer based data acqusition and test and was also acknowledged in the 20th anniversary issue of the IBM pc.
Longest selling and supported PC-based data acquisition product in the world!
The LabMaster products from Scientific Solutions are the longest selling and supported PC based data acquisition products in the world. First introduced in 1981, they created the PC data acquisition market and were the world's first add in products of any type for the IBM PC.
Awarded Test Product of the Decade in 1991 by Test & Measurement world as recognition of its pioneering status in the industry. With updates and enhancements throughout the years, todays version of the LabMaster provides current technology while maintaining 100% compatibility with the original.
The multifunctional LabMaster DMA has analog-to-digital, digital-to-analog, digital I/O, and counter/timer functions with a unique two piece design for exceptional ultra-low noise measurements.
Used in such diverse applications as Voltage Clamp (pCLamp), EEG/EKG, industrial test/control, gravitational meters, and fluorescence research instrumentation - the LabMaster DMA is available in several models of A/D resolution/speed, amplifier gain, and I/O buffering methods.
Additional Features:
External ADC, DeskTop BNC, screw terminals, header and DB connection units.
Suggested Uses:
Ultra-low Noise acquisitions for medical EEG/EKG, sensor measurements, or product development and testing.
Software Support:
32-bit kernel-mode Win Device Drivers and function library.

Only product to receive Test & Measurement worlds Product of the Decade award.


LabMaster Products for jClamp



Part
Number

Image

Product Overview

More Information





The LabMaster DMA is a family of many different versions and configurations.
Not All Configurations shown, only most popular - ask if you don't see what you need



Product Includes:

LabMaster DMA card for inside the PC

External DeskTop unit with the Analog-to-Digital circuitry

50pin ribbon cable to connect PC card to DeskTop unit
Inverting and Non-Inverting Digital I/O buffers
PDF manual on Diskette
LabMaster Series Software Diskette


Features Include:



A/D, D/A, Digital I/O, Counter/Timer
8 or 16bit ISA Bus compatible

16 Analog Inputs (12 or 16 bit resolution, 50Khz or 160Khz speed)

Dual 12 bit Analog Output
24 bits of Digital I/O
Five 16 bit Counter/Timers
DMA transfer of A/D samples to computer memory
Precision timed A/D using on-board Counter/Timer

Full Description and Specifications
Frequently Asked Questions
On-line Manual (html)
PDF Manual (download)
814120




LabMaster DMA, 12 bit 50Khz, HGE, RC


12 bit, 50Khz Analog-to-Digital Conversion
HGE - Hardware Gain = 1 for all Analog Input Channels.

Can be changed to any gain using Precision Resistor

RC - Ribbon Cable connection from PC to DeskTop unit





814121




LabMaster DMA, 12bit 50Khz, PGH, RC


12 bit, 50Khz Analog-to-Digital Conversion
PGH - Programmable Gain under software control
RC - Ribbon Cable connection from PC to DeskTop unit





814122




LabMaster DMA, 12 bit 50Khz, PGL, RC


12 bit, 50Khz Analog-to-Digital Conversion
PGL - Programmable Gain under software control
RC - Ribbon Cable connection from PC to DeskTop unit





814123










LabMaster DMA, 12 bit 160Khz, HGE, RC


12 bit, 160Khz Analog-to-Digital Conversion
HGE - Hardware Gain = 1 for all Analog Input Channels.

Can be changed to any gain using Precision Resistor

RC - Ribbon Cable connection from PC to DeskTop unit



814124










LabMaster DMA, 12bit 160Khz, PGH, RC


12 bit, 160Khz Analog-to-Digital Conversion
PGH - Programmable Gain under software control
RC - Ribbon Cable connection from PC to DeskTop unit



814125










LabMaster DMA, 12 bit 160Khz, PGL, RC


12 bit, 160Khz Analog-to-Digital Conversion
PGL - Programmable Gain under software control
RC - Ribbon Cable connection from PC to DeskTop unit



815120










LabMaster DMA, 16 bit 160Khz, HGE, RC


16 bit, 160Khz Analog-to-Digital Conversion
HGE - Hardware Gain = 1 for all Analog Input Channels.

Can be changed to any gain using Precision Resistor

RC - Ribbon Cable connection from PC to DeskTop unit



815121










LabMaster DMA, 16bit 160Khz, PGH, RC


16 bit, 160Khz Analog-to-Digital Conversion
PGH - Programmable Gain under software control
RC - Ribbon Cable connection from PC to DeskTop unit



815122









LabMaster DMA, 16 bit 160Khz, PGL, RC


16 bit, 160Khz Analog-to-Digital Conversion
PGL - Programmable Gain under software control
RC - Ribbon Cable connection from PC to DeskTop unit



814100


















LabMaster DMA, 12 bit 50Khz, HGE, w/ Screw Terminals


12 bit, 50Khz Analog-to-Digital Conversion
HGE - Hardware Gain = 1 for all Analog Input Channels.

Can be changed to any gain using Precision Resistor

High Density round cable connection from PC to DeskTop unit
ST64 custom screw terminal with all LabMaster signals




814101









LabMaster DMA, 12 bit 50Khz, PGH, w/ Screw Terminals


12 bit, 50Khz Analog-to-Digital Conversion
PGH - Programmable Gain under software control
High Density round cable connection from PC to DeskTop unit
ST64 custom screw terminal with all LabMaster signals






814102



LabMaster DMA, 12 bit 50Khz, PGL, w/ Screw Terminals


12 bit, 50Khz Analog-to-Digital Conversion
PGL - Programmable Gain under software control
High Density round cable connection from PC to DeskTop unit
ST64 custom screw terminal with all LabMaster signals




814103



LabMaster DMA, 12 bit 160Khz, HGE, w/ Screw Terminals


12 bit, 160Khz Analog-to-Digital Conversion
HGE - Hardware Gain = 1 for all Analog Input Channels.

Can be changed to any gain using Precision Resistor


High Density round cable connection from PC to DeskTop unit
ST 64 custom screw terminal with all LabMaster signals






814104










LabMaster DMA, 12 bit 160Khz, PGH, w/ Screw Terminals


12 bit, 160Khz Analog-to-Digital Conversion
PGH - Programmable Gain under software control
High Density round cable connection from PC to DeskTop unit

ST64 custom screw terminal with all LabMaster signals






814105



















LabMaster DMA, 12 bit 160Khz, PGL, w/ Screw Terminals


12 bit, 160Khz Analog-to-Digital Conversion
PGL - Programmable Gain under software control
High Density round cable connection from PC to DeskTop unit
ST64 custom screw terminal with all LabMaster signals











813604











LabMaster DMA, 12 bit 50Khz, HGE, ST64 MJ 3.5


12 bit, 50Khz Analog-to-Digital Conversion
HGE - Hardware Gain = 1 for all Analog Input Channels.

Can be changed to any gain using Precision Resistor

High Density round cable connection from PC to DeskTop unit
36 easy access 3.5mm connections


16 Analog Input
16 Digital I/O
4 User Defined




813605












LabMaster DMA, 12 bit 50Khz, PGH, ST64 MJ 3.5


12 bit, 50Khz Analog-to-Digital Conversion
PGH - Programmable Gain under software control
High Density round cable connection from PC to DeskTop unit
36 easy access 3.5mm connections


16 Analog Input
16 Digital I/O
4 User Defined




813606











LabMaster DMA, 12 bit 50Khz, PGL, ST64 MJ 3.5


12 bit, 50Khz Analog-to-Digital Conversion
PGL - Programmable Gain under software control
High Density round cable connection from PC to DeskTop unit
36 easy access 3.5mm connections


16 Analog Input
16 Digital I/O
4 User Defined



814200












LabMaster DMA, 12 bit 160Khz, HGE, ST64 MJ 3.5


12 bit, 160Khz Analog-to-Digital Conversion
HGE - Hardware Gain = 1 for all Analog Input Channels.

Can be changed to any gain using Precision Resistor

High Density round cable connection from PC to DeskTop unit
36 easy access 3.5mm connections


16 Analog Input
16 Digital I/O
4 User Defined



814201











LabMaster DMA, 12 bit 160Khz, PGH, ST64 MJ 3.5


12 bit, 160Khz Analog-to-Digital Conversion
PGH - Programmable Gain under software control
High Density round cable connection from PC to DeskTop unit
36 easy access 3.5mm connections


16 Analog Input
16 Digital I/O
4 User Defined



814202











LabMaster DMA, 12 bit 50Khz, PGL, ST64 MJ 3.5


12 bit, 50Khz Analog-to-Digital Conversion
PGL - Programmable Gain under software control
High Density round cable connection from PC to DeskTop unit
36 easy access 3.5mm connections


16 Analog Input
16 Digital I/O
4 User Defined



813610












LabMaster DMA, 12 bit 50 Khz. HGE, Desk Top BNC


12 bit, 50Khz Analog-to-Digital Conversion
HGE - Hardware Gain = 1 for all Analog Input Channels.

Can be changed to any gain using Precision Resistor

High Density round cable connection from PC to DeskTop unit
44 frequently used DMA signals with convenient BNC connectors


16 Analog Input
2 Analog Output

16 Digital I/O
9 Counter Timer functions
+5 volt and ground







813611











LabMaster DMA, 12 bit 50Khz, PGH, Desk Top BNC


12 bit, 50Khz Analog-to-Digital Conversion
PGH - Programmable Gain under software control
High Density round cable connection from PC to DeskTop unit
44 frequently used DMA signals with convenient BNC connectors


16 Analog Input
2 Analog Output

16 Digital I/O
9 Counter Timer functions
+5 volt and ground






813612












LabMaster DMA, 12 bit 50Khz, PGL, Desk Top BNC


12 bit, 50Khz Analog-to-Digital Conversion
PGL - Programmable Gain under software control
High Density round cable connection from PC to DeskTop unit
44 frequently used DMA signals with convenient BNC connectors


16 Analog Input
2 Analog Output

16 Digital I/O
9 Counter Timer functions
+5 volt and ground



813623











LabMaster DMA, 12 bit 160 Khz. HGE, Desk Top BNC


12 bit, 160Khz Analog-to-Digital Conversion
HGE - Hardware Gain = 1 for all Analog Input Channels.

Can be changed to any gain using Precision Resistor

High Density round cable connection from PC to DeskTop unit
44 frequently used DMA signals with convenient BNC connectors


16 Analog Input
2 Analog Output

16 Digital I/O
9 Counter Timer functions
+5 volt and ground



813624











LabMaster DMA, 12 bit 160Khz, PGH, Desk Top BNC


12 bit, 160Khz Analog-to-Digital Conversion
PGH - Programmable Gain under software control
High Density round cable connection from PC to DeskTop unit
44 frequently used DMA signals with convenient BNC connectors


16 Analog Input
2 Analog Output

16 Digital I/O
9 Counter Timer functions
+5 volt and ground



813625











LabMaster DMA, 12 bit 160Khz, PGL, Desk Top BNC


12 bit, 160Khz Analog-to-Digital Conversion
PGL - Programmable Gain under software control
High Density round cable connection from PC to DeskTop unit
44 frequently used DMA signals with convenient BNC connectors


16 Analog Input
2 Analog Output

16 Digital I/O
9 Counter Timer functions
+5 volt and ground



814130










LabMaster DMA, 12 bit 50Khz, HGE, RC w/o enclosure


12 bit, 50Khz Analog-to-Digital Conversion
HGE - Hardware Gain = 1 for all Analog Input Channels.

Can be changed to any gain using Precision Resistor

RC - Ribbon Cable connection from PC to external ADC board




814131










LabMaster DMA, 12bit 50Khz, PGH, RC w/o enclosure


12 bit, 50Khz Analog-to-Digital Conversion
PGH - Programmable Gain under software control
RC - Ribbon Cable connection from PC to external ADC board




814132










LabMaster DMA, 12 bit 50Khz, PGL, RC w/o enclosure


12 bit, 50Khz Analog-to-Digital Conversion
PGL - Programmable Gain under software control
RC - Ribbon Cable connection from PC to external ADC board




814133










LabMaster DMA, 12 bit 160Khz, HGE, RC w/o enclosure


12 bit, 160Khz Analog-to-Digital Conversion
HGE - Hardware Gain = 1 for all Analog Input Channels.

Can be changed to any gain using Precision Resistor

RC - Ribbon Cable connection from PC to external ADC board



814134










LabMaster DMA, 12bit 160Khz, PGH, RC w/o enclosure


12 bit, 160Khz Analog-to-Digital Conversion
PGH - Programmable Gain under software control
RC - Ribbon Cable connection from PC to external ADC board



814135










LabMaster DMA, 12 bit 160Khz, PGL, RC w/o enclosure


12 bit, 160Khz Analog-to-Digital Conversion
PGL - Programmable Gain under software control
RC - Ribbon Cable connection from PC to external ADC board











LabMaster DMA Accessories


Part
Number

Photo

Product Overview

More Information

811990





LabMaster DMA PC Interface


PC Interface only (no cables or external unit)

Comes with both Inverting and Non-inverting Digital I/O buffers

Full Description and Specifications
Frequently Asked Questions

0801007





LabMaster DMA External ADC (12bit, 50Khz, HGE, RC)


External DeskTop Unit
Small footprint DeskTop Unit

11" W x 4" H x 7" D (280mm x 102mm x 178mm)


Connections for 16 Analog Input Signals

Full Description and Specifications
Frequently Asked Questions
814099



LabMaster DMA ST64 Upgrade


Eliminates ribbon cable from PC to Desk Top unit

Utilizes 68 pin round cable

Screw Terminals provide reliable connections for all LabMaster DMA signals




not for
DMA



LabMaster BNC Panel for Screw Termination (ST) Units


Replacement Panel for ST units that provides 20 BNC
Each BNC has two wires to connect to the screw terminal
Versatility to change the BNC signal connections at any time
For use with ST52 or ST104
Scientific Solutions can label, install and connect for you
Off-the-shelf versions also available


Full Description and Specifications

813570
not for DMA



LabMaster Desktop Screw Termination ST104 (64 Analog Inputs)
with 60pin connection


Provides Convenient screw terminals for signals
Housed in small DeskTop unit

Small unit only 11" wide x 2" tall x 7" deep
64 Analog Input connections


Full Description and Specifications
0821008



Windows Device Drivers and LabPac32 DLL (included with card)
32-bit kernel mode driver
WDM driver supports Win98, 2000, XP
LabPac32.DLL function library

Full Description and Specifications
0821004




LabPac32 Software Application Development Toolkit


32-bit kernel mode driver
WDM driver supports Win98, 2000, XP
LabPac32.DLL function library with full documentation

Software Developer Example software
Header files
C/C++ open source compilier

Full Description and Specifications
938298





LabMaster DMA 50 position shielded ribbon cable 6 ft.

This cable is supplied with the RC version of the LabMaster and is available as a replacement for lost or damaged cables.




938299






LabMaster DMA 50 position shielded ribbon cable 10 ft.

10 ft version of the standard LabMaster DMA shielded cable





938300






LabMaster DMA 50 position shielded ribbon cable 50 ft.

50 ft version of the standard LabMaster DMA shielded cable



0361003



Cable, 68 pin high-density, 6 ft.


For use with LabMaster cards using the 68pin connector
This cable supplied with the 68pin version LabMaster DMA and is available as a replacement for lost or damaged cables.



Full Description and Specifications
---