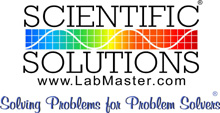 Scientific Solutions ® Inc.
LabPac Brand Enhancement Products
The Scientific Solutions LabPac brand of products support and enhance laboratory functions, data acquisition, virtual instruments and process control systems. Each product is carefully constructed and tested and where applicable include MSDS, Certificate of Analysis and Conformance, and NIST calibration data.
For Laboratory and Educational use
The LabPac brand of products means that each one has been carefully designed, built and tested to exact specifications and suitable for high-end laboratory use yet still cost-effective and safe for educational use.
We are pleased to support education by offering discounts to educational institutions and students.
LabPac Laboratory Support Products
These LabPac laboratory items are used to keep your equipment operational. Some of the items are consumable parts; namely the D.I. columns, the test solution, the printer ribbon and printer paper. Also, there are a couple of additional items that are useful to verify your equipment is operating correctly; these items include thermometer, hydrometer, #3 standardizing test solution and pipette. Your users guide will generally inform you as to which items you need. If you have any questions, contact Scientific Solutions.
LabPac Brand Laboratory Enhancement OmegaMeter Ionic Testing Products
Scientific Solutions
Part Number
Image
Description
Price
More Info
0301168
LabPac® De-Ionization Column
Full Size for Ionic Testing (about 17")


OmegaMeter 200, 500 600, 600R, 600SMD
Alpha Metals and Kenco series
Other systems using the larger cartridge
Other PN: 72-1620, RI921000, 92-1000, FP-92-1000

Large D.I. Column
Hose Clamp Version

$215.00Special Pricing $165.00

Buy 4 and save more
Price each Only $155

More Info
0301188
LabPac® De-Ionization Column
Mid Size for Ionic Testing (about 12")


OmegaMeter 600sc, 700SMD, 620
Ionograph 500M series
Ionograph 500 SMD, SMD II, SMD III, SMD IV, SMD V
Other systems using the smaller cartridge
Other PN: 72-1619, RI920601, 92-0601, FP-92-0601

Mid Size D.I. Column
Hose Clamp Version

$215.00Special Pricing $165.00

Buy 4 and save more
Price each Only $155

More Info
0301239
LabPac® Hose Adapter
Connects DI-columns to plumbing manifold
Use two per column
Does not include hose clamps Length: 1.5" (38mm)

$8.00

More Info
0301170
LabPac® OM-600 Virtual Probe
For OmegaMeter Electrical Verification Test

$80.00

More Info
0301171
LabPac® OmegaMeter 600 Resistivity Sensor

$2295.00

More Info
0301172
LabPac® OmegaMeter 700 Resistivity Sensor

$2295.00

More Info
0301173
LabPac® De-Ionization Column QC
For use in systems with Quick-Connect Holders
Large D.I. Column
Quick Connect Version

$215.00

More Info
0301198
LabPac® De-Ionization Column HC
For Water applications only (D8901 equiv, no dye)
Large D.I. Column
Hose Clamp Version

$145.00

More Info
0301196
LabPac® Solvent Extract 75i
Pre-mixture 75% IPA, 25% De-Ionized H20 (1 Liter)


$40.00 / Liter

More Info
0301175
LabPac® OmegaMeter 600 Printer Cartridge

$15.00

More Info
0301178
LabPac® OmegaMeter 600 Printer Ribbon

$15.00

More Info
0301179
LabPac® OmegaMeter 600 Printer Paper

$15.00

More Info
0301180
LabPac® #3 Standardizing Solution
60 ml bottle
Use for Chemical Verification Test

$90.00Special Pricing $40.00

Add a 5mL Dispenser (0301199)
For only $5 more!

More Info
0301186
LabPac® #3 Standardizing Solution
125 ml bottle
Use for Chemical Verification Test

$180.00Special Pricing $60.00

Add a 5mL Dispenser (0301199)
For only $5 more!

More Info
0301181
LabPac® Pipette, 5ml

$55.00

Also take a look at
our 5mL Blunt Tip Syringe
(0301199) as a convenient alternative
More Info
0301199
LabPac® 5mL Blunt Tip Syringe

$8.00

Special $5 Price . . .
When purchased with
#3 Stanardizing Solution
(0301180 or 0301186)
More Info
0301182
LabPac® Lollipop Thermometer

$40.00

More Info
0301184
LabPac® Hydrometer 0.75-0.90 with siphon set

$175.00

More Info
---