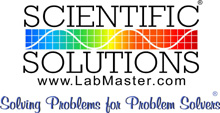 Scientific Solutions ® Inc.
LabPac ® Brand Laboratory, Industrial and Educational Supplies
LabPac 5ml Blunt Tip Syringe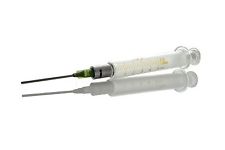 Picture shows the LabPac Syringe
Description
5ml Capacity with Graduation Markings at 0.2 mL intervals
Easy measuring and dispening of 5ml liquid
18G 1-1/2" blunt tip needle
BD Luer-Lok tip needle for easy detachment and replacement
Not for injection or medical use. The blunt, short grind tips do not allow for piercing of the skin and the gauge of needle is too thick to penetrate skin.
Safety cap to protect the tip from damage
Common Use
The Chemical Verification is used to verify that the OmegaMeter is working correctly.
Normally, the OmegaMeter measures contamination from a circuit board. But how do you know if the measurement is correct? The Chemical Verification test is used to verify that the machine is actually working correctly.
Instead of using a circuit board and measuring the contamination, the Chemical Verification test uses a known quantity of contamination. The source of the contamination is the "#3 Standardizing Solution" and the known quantity is 5ml.
The LabPac 5ml blunt tip syringe allows for easy measurement and effective dispensing of precisely 5ml of of the LabPac #3 Standardizing Solution.
LabPac ® 5ml Blunt Tip Syringe

| | |
| --- | --- |
| Capacity | 5mL |
| Graduation Markings | 5mL at 0.2mL intervals |
| Tip | 18 Gauge, 1-1/2" Blunt |
| Accuracy | +/- 0.1mL |
---